Friday, September 27, 2013
Since we had been up so late working on the boat, we all slept in. And when we did wake up, we woke up with sadness. This was our last full day on the Wonder. None of us could believe that it was time for our vacation to wind down. Now, I cry easily but today the tears seemed to be on overload today. As we made our way through our day, we all commented on how much we would miss our new home!
After grabbing a quick bite to eat, we went to the lobby atrium to take a final picture with Mickey and the gang. It was a great time and it seemed like most of the ship had the same idea as us. Next, it was off to get the boat from the stateroom for the competition. We took a detour through Triton's to show it to our servers – especially Roy who had purchased the pool noodle that was the base of our boat. They were all impressed with our handiwork.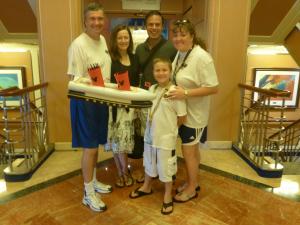 When we arrive at Goofy's Pool, there were about 20 entries. They ranged from funny to downright talented! Our favorite was the Wonder made to scale out of coffee stirrers and painted identical to the Wonder. Lance chatted with the maker of that ship and he spent a ton of time working on it during the cruise. Turns out his hobby is model making. I would say that came in handy!!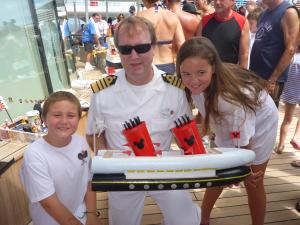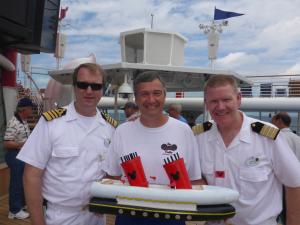 Our boat did great! It was seaworthy, very Disney and very creative — at least we thought so. Sadly, we didn't win but we did have fun and we did receive a lot of verbal praise as we made our way to the gift shop to beg for a box to transport it home in since there was no way we were leaving that boat on the ship. We also had numerous requests to pose for pictures with our boat. Wonder where those pics will end up!!! That praise was a sweet balm to our defeated spirits.
Once we got the boat all taken care of, we gathered the kids and made sure we were in the lobby atrium for the Character Dance Party.  Characters? Music? Dancing? My kids were all about it! And when Goofy started the Conga line, Alex was second in line and William was third. Talk about fun!  Their smiles were as wide as their faces. These moments are the moments that are burned in my mind. My kids having the best time ever!
I needed to pack so I kicked everyone out of the stateroom so I could do it uninterrupted. That turned out to be the best decision ever as it went so very quickly. If I haven't mentioned it yet, I packed way too much!!! I should have only brought half of what I did bring! The kids stayed in the kids' clubs until we gathered them again for the final show — Remember the Magic.  The show was amazing and Disney reminded us that the Magic is always with us — no matter where we are.  The highlight for our family was that we were one of the families chosen to be a part of the show via a videotaped clip. Both our kids had some of their new friends sitting with us and at the end of the show, William and AJ were sad and Alex and Anna were holding each other bawling their eyes out. In a weird way and as sad as I was watching this, I also found this to be the best evidence that this was a trip my kids would never forget!
On our way to dinner, we had a final session of pin trading with the officers. I can happily say that we all scored some pretty terrific pins for our collections. As you might guess, Alex's favorites were the fairies and princesses while William preferred the pirates and star wars pins! Lance and I just loved any that were unique. If you ever want to see some cool pins, come on by and we will be thrilled to show you our collections!
Dinner was at Animator's Palette tonight. There was a definite bittersweetness in the air tonight. It was our last time with our servers Roy, Asif and Renato. It was also the last time we would be dining near our table neighbors Hunter, Jessica, Raymond and Don. It was another yummy dinner with great service. We ended the family portion of our evening with the Till We Meet Again show in the lobby. All of the characters came out.  I was so glad we got a chance to give final hugs and farewells to our favorite characters. My two favorites were Snow White and Belle. As our family said till we meet again to both of them and gave final hugs, the tears started and just wouldn't stop rolling down my cheeks. Both kids also teared up saying goodbye to their friends — characters, crew members and other cruisers. Lance even got a bit emotional — but nobody mention that I told you that! I know this may sound corny to some but tonight felt like we were saying goodbye after camp — luxury camp! All four of us will treasure these memories forever.
As we left, we walked to Shutters to pick up the rest of our pictures. We even took photos with our photographers as we left. They will all hold a special place in our hearts. Our two favorites were Kate (from England) and Carlos (from Colombia)! They loved on our kids so sweetly and that was really all it took for us to love them back!  Precious people!!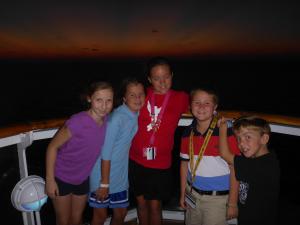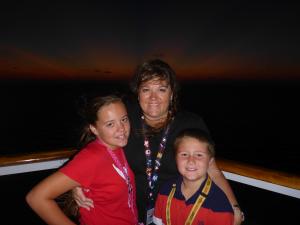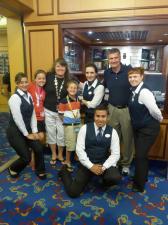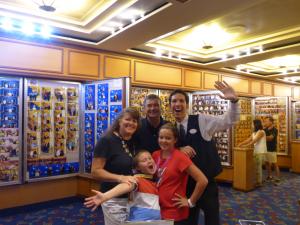 The kids went to their clubs for a final time while Lance and I took our last walk in the moonlit on Deck 10. We walked and talked and both said we were so glad we disconnected from the outside world (no cell phones and no internet) for this cruise and spent some fabulous family time and couple time on this vacation. We agreed that this cruise was the best vacation we have ever taken as a family and that we hope it won't be our last 14 night cruise with Disney!  Way too quickly midnight came and it was time to pick William up from the Oceaneer's Lab. We collected him, checked on Alex in Edge (it is open until 1:00 a.m. again) and headed back to the stateroom.  1:00 a.m. came and Alex arrived. Sleepy time!