Disneyland® Resort
Have you experienced Disneyland® Resort for yourself yet? "Walt's first park" is the original, and you can feel the history. It's sweet, it's happy, and it's a great way for Disney fans to immerse themselves in the home of Walt Disney's imagination.
Disneyland is truly its own experience. Planning a family vacation to Disneyland is a bit different than planning one to Walt Disney World® Resort. Because Disneyland is smaller, with a much more laid-back vibe, the planning process can be much more relaxed. There are just fewer hoops to jump through!   But don't think that just because Disneyland is smaller than Walt Disney World, there isn't enough to do. Yes, it's less sprawling, but it's still packed with unbelievable rides and attractions, exclusive to the Disneyland Resort, with the level of detail and creativity that only Disney can deliver.
Why Visit Disneyland Resort?
Besides the nostalgia and history of the park, there's so much to do and see! A trip to Disneyland can easily become part of a larger trip to Los Angeles or San Diego, thanks in part to its accessibility and proximity to other great vacation destinations. But, don't take that to mean that you won't get a full Disney experience at Disneyland.
The entire Disney experience in California is so much more laid back. In fact, rides last just a little longer at Disneyland. "it's a small world"® for example, lasts around 5 and a half minutes, versus 4 minutes at Walt Disney World. There is a lot more character interaction. The characters roam freely through the parks — they might even hop on a ride with you!
There's pride in the cool, vintage vibe, from original rides to the signage down Main Street, U.S.A.® Area, and the smaller, and still very magical Sleeping Beauty's castle. If you're wanting to experience this level of Disney magic, you can only get it at Disneyland.
Holidays at Disneyland: Planning a trip to Disneyland close to a holiday? Whether it's Halloween or Christmas, or any other magical time of year, Disneyland goes full out. Of course, all of the Disney parks and resorts are decked out for holidays, but Disneyland takes it to the next level. You truly can't top the wonder of Disneyland at Christmastime, so perhaps the best time to plan your visit is over a holiday break.
The Newest and the Latest
Disney is known for always developing new rides and experiences for their parks, and Disneyland is no exception. If you haven't been to Disneyland in a while, or if this is your first trip to the park, there are brand new adventures to be had throughout the park.
Star Wars: Galaxy's Edge: Ride aboard Han Solo's ship on the ride Millenium Falcon: Smuggler's Run, the thrilling, interactive flight that takes you on your very own smuggling mission. Engines rumble as you take off into hyperspace as either a pilot, engineer, or gunner. No matter your role, you're a crucial part of the trip!
While the second attraction is set to debut in early 2020, there are still scores of immersive shops and attractions to enjoy for Star Wars fans of all ages in the meantime, including a build-your-own lightsaber experience. You can even create your own droid! Characters are constantly roaming the area, and with the sounds of ships buzzing overhead, you really feel like you might just be on another planet. Stop by the canteen for specialty food, cool music, and a really hip intergalactic bar scene.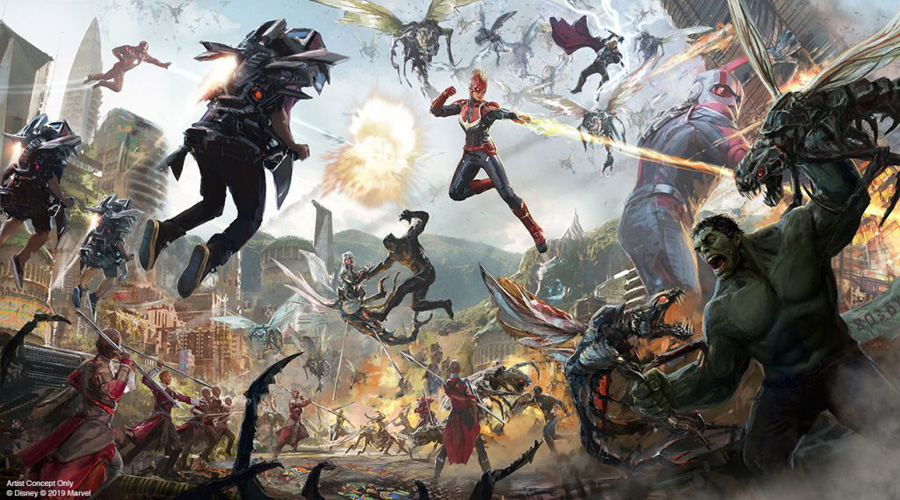 Pixar Pier: Some of Disney's best films are the CGI stories they've created with Pixar, and you can step into the world of Pixar on Pixar Pier. Disney's California Screamin' rollercoaster has been transformed into the Incredicoaster® to take you the fast-paced journey of Disney's superhero family, The Incredibles. Meet characters from Toy Story 4 and Monsters, Inc. and go on a ride through the world of Inside Out. With games from WALL-E, A Bug's Life, and more, there's lots to see and do on Pixar Pier.
Cars Land®: Cars Land is another experience you can only get at Disneyland. Located in Disney California Adventure Park®, you can meet the "car-acter" residents of Radiator Springs, climb aboard an Italian roadster, and cruise through Radiator Springs.
Coming Soon:
A Whole New Avengers Campus Are you a fan of the Avengers? There's a whole Avengers campus coming in summer 2020. Only at Disneyland, can you soon meet the Marvel characters, ride the rides, and walk through the Marvel Universe. This is something unique, that you can't get at Disney World. Captain Marvel? Guardians of the Galaxy? There's something there for every Marvel fan, and at Disneyland, you'll get much more direct interactions with the Marvel characters.
Quick Tips: Four Things You Need to Know
1

Disneyland can be a great first "taste" of a Disney vacation experience for families with young children:

The factors that make Disneyland different from Walt Disney World combine to make Disneyland an ideal destination for a first "taste" of Disney. Disneyland is less overwhelming, takes less time to visit, takes less time to plan, and has exclusive attractions that are appealing to young ones.

2

Disneyland can be part of a larger trip:

No time for a long trip? Disneyland can easily be explored over a long weekend, or at least the course of a few days. If you have more time to spend in Southern California, your Small World Big Fun Travel Advisor can help design a week-long itinerary to include visits to the sites of San Diego, Los Angeles and Hollywood or the beaches of Southern California.

3

Consider trip insurance:

You never know when the unexpected will happen. In the event of an unforeseen challenge, you should consider trip insurance. We've planned trips for thousands of people for over 20 years, and every year, we encounter travelers who are grateful for trip insurance when they have to deal with an unexpected hiccup in their travel plans. Travel Insurance can really be a lifesaver — do you have yours yet?

4

Use your Small World Big Fun travel advisor:

Planning a vacation can be stressful, but it doesn't have to be. We make it easy for you, with one package that includes airfare, hotel reservations, tickets to the park, dining reservations, and more.

Disney is constantly adding new rides and attractions, and we stay on top of what's new and amazing so you can have the best trip possible. It would be nearly impossible to stay on top of it all on your own — let us do it for you.

At this point, we are proud to be experts on everything Disneyland related. We've been there and done that and know every must-see experience and attraction, and can help you distill everything down to a list of attractions that are perfectly tailored to your interests.

We want to create the very best experience for you and your family, with the least amount of work for you. We're dedicated to ensuring your trip is truly magical. That's why we are the ones on the phone for you: making dining reservations and helping you navigate Genie + months and days out from your trip, so you don't have to.

And the best part? We cut through the noise and lists. We take the stress out. And all you have to do? Enjoy the Disney magic.
Your Disneyland Resort Trip
We are passionate about Disneyland. We love crafting the best possible trip for you. Your trip won't only be easy and stress-free, it will be a total blast, too. Don't believe us? Take a look for yourself!
"We had a magical time that will be special to our family forever!!"
"They know all of the Disney secrets for your family to have the best vacation possible. They are always available to answer questions and work so hard to make your vacation customized to your family's needs and wants. We will be planning many more Disney adventures with Small World Big Fun!"
"Working with Small World Big Fun allowed our family to focus on making memories and relaxing. They thought of everything and gave us great information that enhanced our experience. We will never plan a Disney trip without them!"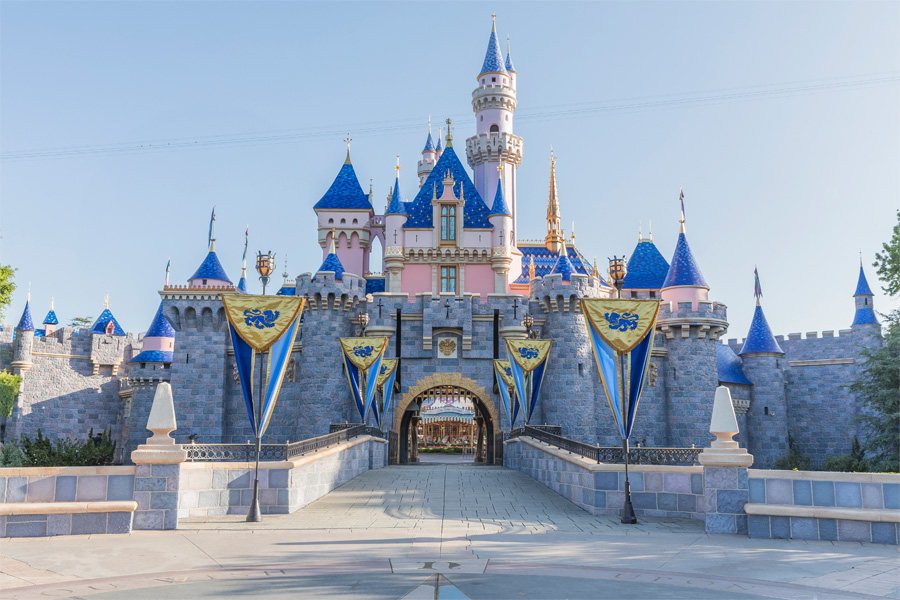 We've experienced all the magic that Disneyland has to offer and we can't wait to share it with you.
We love the magic and the nostalgia of Walt's original park.
We love that we can walk up to Peter Pan and make a video for our kids.
We love that when we warn our kids that Sleeping Beauty Castle will look smaller than Cinderella Castle, it doesn't matter to them at all, because they are so transfixed by the splendor of Disney.
We love that Alice from Alice in Wonderland might just hop on the Mad Tea Party spinning teacups ride with your kids.
And we can't wait to help you create your very own Disneyland memories, too! Request a quote today and let's get started!
Hear from some of our Wonderful Clients and their BIG FUN Experiences