Disney Cruise Line
Looking for a high-quality, high-value family vacation experience unlike any you've ever had before? Then let's talk about Disney Cruise Line.
As parents, cruising with Disney is hands-down one of the the BEST family vacations we have ever taken. So many times, vacationing with your family feels like "just a different dishwasher." Your responsibilities as parents really don't change all that much. But on a Disney Cruise Line vacation, Mom and Dad really do get a break!
How is this possible, you ask? There's plenty to do both together and apart, which gives you the opportunity to create truly awesome family memories, and give everyone their own space, too. Traveling with Disney Cruise Line also allows your family some independence aboard the ship. With lots of activities designed to share and just as many designed to let your kids feel independent, it's the perfect balance of family togetherness and personal downtime.
Why Disney Cruise Line
Traveling with the family on Disney Cruise Line is a breeze. There really is something for everyone. Once onboard the ship, you can spend as much time together as a family as you'd like, followed by as little or as much independent time as you want as well. Younger kids will take one look at the Disney Oceaneer's Club (ages 3-12) and never look back. (Seriously — they can pilot the Millennium Falcon.) Older kids will love making new friends in the teen-only clubs Edge (11-14) and Vibe (ages 14-17). Adults even have dedicated areas of the ship just for them. With Disney Cruise Line, you can split up, enjoy your own activities, and join back up to share the memories.
If you do decide to split up, Disney Cruise Line makes it super easy to keep in touch. You can use the Navigator app, or "wave phones," which are provided for you to use onboard the ship free of charge. This is a great opportunity to give kids little taste of freedom in a safe environment.
On a Disney cruise, there is no need to jump through hoops to plan every detail in advance. Your days can be as full or as empty as you like. You can kick back and lounge on the deck following a trip to the spa, or get your sweat on while on the sports deck where you can compete in a little basketball or try virtual golf. Lounge in a recliner or pull a chair right up to the water, or try your hand at the rock climbing wall.
Don't forget about Castaway Cay! Disney's private island is chock full of fun, with opportunities to relax on the beach or try water activities like snorkeling in the lagoon or scuba diving. You can even reserve a massage cabana. There's so much to do on Castaway Cay, you'll be ready to go back before you even leave!
Your accommodations and activities include all the bells and whistles you've come to expect with Disney resorts, and you won't feel "nickel-and-dimed" like you may on other cruise lines. In fact, we've never had a negative review from any one of our Disney Cruise Line travelers. If you've never cruised, even if you aren't a hardcore Disney fan, Disney Cruise Line is the perfect opportunity for ocean travel.
The Newest and the Latest
Disney Cruise Line recently announced that they will be adding THREE new ships to their fleet in 2021, 2022 and 2023. This means more ports of call, more itineraries and more home ports to make adding a Disney Cruise to your family's vacation bucket list that much more accessible and exciting!
New itineraries and special events are being added all the time — it's just a matter of finding the right itinerary for you. Take for example Marvel Day at Sea, which is perfect for the Avengers fan in your family. You'll get to experience one-of-a-kind entertainment and unforgettable meet-and-greets with your favorite superheroes.
Quick Tips: Five Things to Know
1

Get a passport for everyone.

We always suggest having a passport for every member of your party. While there are some cruise itineraries that may not require a passport, it is important to know that you cannot re-enter the US by air without a valid passport. If an emergency situation forces you to return to the US, without a passport you would be unable to do so.

2

Plan ahead.

Certain itineraries book up quickly, especially some of the more popular stateroom categories. If you have your heart set on cruising to a particular destination or itinerary, or during the holidays, you should book well in advance. Booking in advance can sometimes be the way to get the best price on your cruise. As the ship fills up, the price goes up!

3

Motion Sickness? Fear Not!

Don't let the idea of getting seasick keep you from the fun and magic of a Disney Cruise. If you're worried about motion sickness, you don't have to say goodbye to the idea of traveling on a Disney cruise. Your Small World Big Fun Travel Advisor will have lots of suggestions for how to avoid motion sickness.

4

Consider trip insurance.

Things happen, so please consider trip insurance to protect yourself against unforeseen events and challenges. Your Small World Big Fun Travel Advisor can walk you through the choices that are best for you.

5

Use your Small World Big Fun travel advisor.

We stay on top of planning your trip so you don't have to. Don't let your relaxing, fun vacation be a point of stress. Instead, let us take care of everything for you. And if the unexpected happens, it is our job to keep that stress at bay.

We're experts. We've been there and done that. We know how to distill everything down to the perfect, personalized trip for you and your family. When you work with us, you get to take a vacation, without all the work of a trip. It's time you experience the difference for yourself.

And the very best part of it all? We help you cut through the noise. We take the stress out. And your only task? Is kicking back and enjoying the experience.
Your Disney Cruise Line Travel Experience
Whether you've got angsty, crabby teenagers, hard-to-please in-laws, first-time cruisers or even "not-so-sure-I-want-to-cruise" cruisers, we know whomever you bring will love their time on the ship.  Our years of experience means that we know exactly how to make sure your vacation visions are met. Your Small World Big Fun Travel Advisor is here to help make sure the stress is taken out of planning. We are also your advocate when things don't go exactly as planned. We will take care of the details so that all you have to do is show up for the fun!   
"Just wanted to say a huge 'thank you' for giving my family the best vacation ever. We had a wonderful time on the cruise over Thanksgiving."
"I loved the promptness of their responses to my questions, the insights they provided as we planned activities, and their willingness to help us alter our reservations when we added one additional traveler to our reservation."
"Everything was planned perfectly for me and my family! We really enjoyed each and every day of our trip."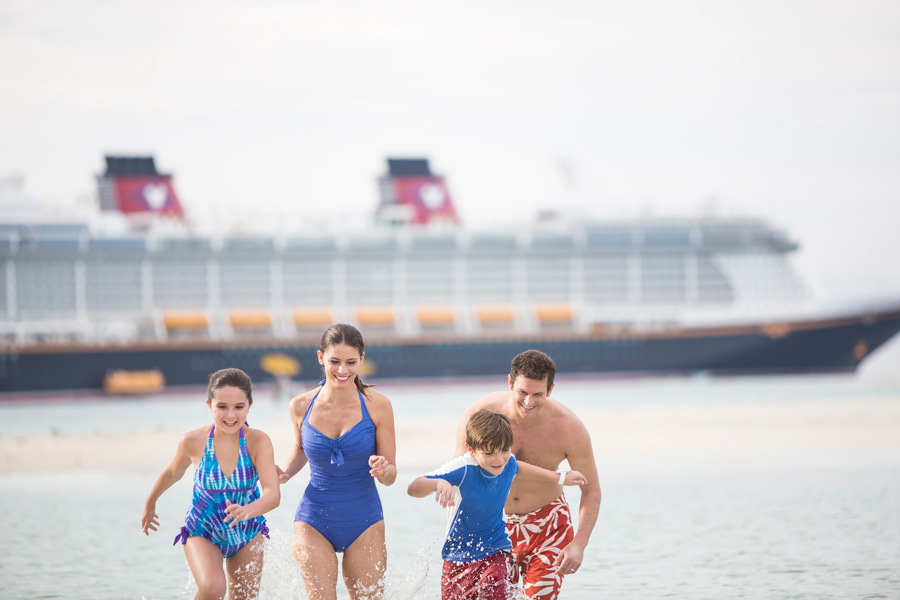 Are you already imagining yourself lounging aboard one of the ships in the Disney Cruise Line fleet? Let's get started on planning your perfect cruise! Request a quote today!
Hear from some of our Wonderful Clients and their BIG FUN Experiences