Monday, September 23, 2013
We arrived in Cartagena, Columbia, bright and early. This was the first time anyone in our family had left North America and we were excited to see this city.  We met the rest of our tour group in Diversions and headed to meet our tour guide, Judy Chavez. We were excited because we met up with our "adopted" family — Mike, Jane and baby Emma from Seattle.  It seemed we were on all of the same excursions and tours on board.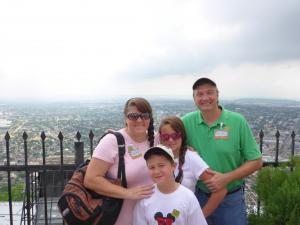 First, we drove through the old city and up a very steep mountain to La Poppa Monastery. On the way, we passed homes that were no more than cinder blocks and tin slapped together. More than one home had plastic tarps on top weighted down by stones to keep out the rain. William had a difficult time seeing the children in those situations. I did too!  Hopefully, that means we will all appreciate the life we have. Thankfully, Alex fell asleep (hmmm … wonder if staying out until 1:00 a.m. in the Edge had anything to do with it the nap) on the short drive and missed that side of Cartagena. Her tender heart would have been undone.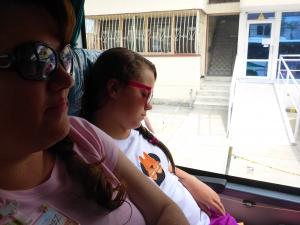 Once we arrived at the monastery we were bombarded with men and women peddling their goods. One man even had a sloth you could take your picture with — for a fee.  We did our best to ignore them and walked up the steps to the monastery. It had been around for centuries and still today, four Catholic monks live in the upper floor. It was hotter than hot and even the ocean breeze couldn't keep everyone from sweating buckets! Thank goodness for the bottled water we brought with us. The chapel was beautiful and the view of the city and harbor was amazing! On the way out I noticed William kept glancing over at the sloth. Being the good mom I am (and trying not to worry about what diseases the sloth might be carrying), we let him pose for a picture. Little did I know the man would actually put the sloth in William's arms!!!!  (Ignore the worry! Don't be a germ freak!) We got some sweet pictures of him and the look of happiness on his face was priceless.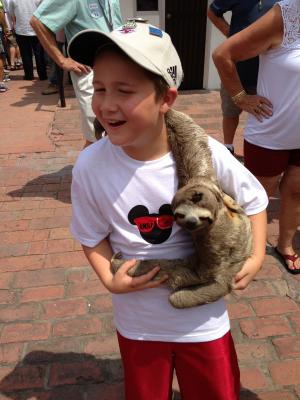 Next, we drove back down the mountain and on to the San Felippe Fort. This fort was massive and right in the middle of the city. I am glad I made us all wear our tennis shoes because we had quite a hike up the stone ramps to get to the heart of the fort. We were all amazed that the fort was built in the 18th century and still in such good condition today. Over 80% of the structure is original with less than 20% of reconstruction. They had an amazing tunnel system of defense and escape if the fort was ever penetrated. On the way out, the men were selling the Panama-style hats my dad asked for as a souvenir. Check that one off the list! One of the Disney Port Adventures cast members was on our tour and sat with us for the rest of the trip. It was nice getting to know Darko from Canada via Serbia.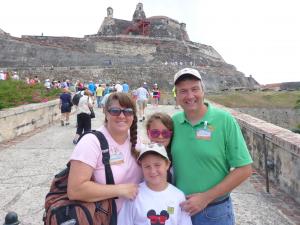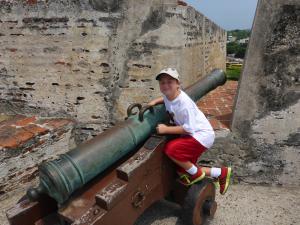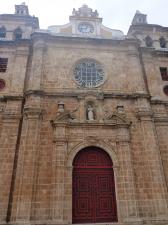 The third stop was to the Dungeons inside the walled city where they now have handicraft stores. Alex found a beautiful hot pink cuff bracelet and William found a braided bracelet.  The stop was quick and by the time we found those two items and I went to the restroom — which I had to pay a lady for the privilege and I am still not sure if I was scammed or if she was official — it was time to explore the city inside the walled city.
The rain hit just as we started this part of the tour. Our bus dropped us off at the end of one of the narrow streets — no cars could fit the streets were so narrow. The buildings had been around since the 1700s and were beautiful. They all boasted balconies that displayed amazing flowers and plants. Turns out that whichever home has the most beautiful greenery wins the privilege of no taxes for the next year!
We walked down until we came to the church of San Pedro Claver. He was a man who had a passion for welcoming the black people to Colombia. Ultimately, his hard work and history led to him becoming a saint in the Catholic Church. His body is on display in the chapel at the church. It was a bit eerie to see a body that had died in the 1700s on display in a glass coffin at the altar. Next, we walked to the Naval Museum where we were treated to a bottle of ice-cold water and a folkloric show in air conditioning. All three were greatly appreciated!!!
Our final stop of the tour was at a mall for souvenirs. I had a chance to meet the famous emerald jeweler from America, Lee Miles, who has been in Cartagena for 35 years selling emeralds. Emeralds are mined in Cartagena and are very beautiful. I picked one out that I loved and it was a mere $8500. Sadly, I have great taste and no emerald ring to bring home!! Alex did get a pair of beautiful Colombian silver earrings and William snagged a Colombian soccer shirt.
Once we arrived back on the Wonder, we followed every other person returning from a tour for a quick bite to eat on Deck 9. After some food and drink, all four of us needed our second shower of the day. Have I said that the humidity level in Cartagena was high? It was!
This night was our Pirates IN the Caribbean night onboard. In honor of the occasion, we all donned our pirate shirts, eye patches and bandannas and went up to greet the characters in their pirate wear. We made it early enough to snag a spot in the group meet and greet and photo!  It was fun to have our family picture taken with Mickey, Minnie, Chip-n-Dale, Stitch, Captain Hook, Mr. Smee and Peter Pan. Next, we were off to meet Jack Sparrow. He is such a character! The interaction with our kids was amazing. That very interaction is one of the many things that make this cruise so fabulous!  Since there are only about 300 kids on board, they have so much time with each and every child — and adult! We LOVE it!!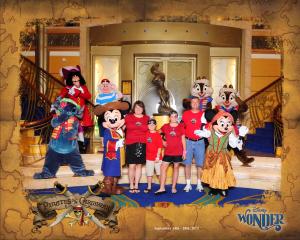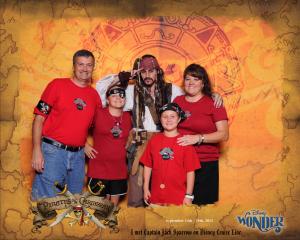 The show tonight was Circo Comedia. Two former Cirque de Soleil performers now have their own traveling show. It was slapstick humor and the boys especially found it hilarious. Alex opted to head to the Edge for an hour before dinner and missed the show.
We all joined up for the pirate dinner at Triton's. The wait staff was all in pirate wear and each guest had a pirate bandanna at their place to wear for the evening. We loved the theme night and dinner finished with a pirate dance around the room complete with limbo. I love how the cast members are so energetic about having fun!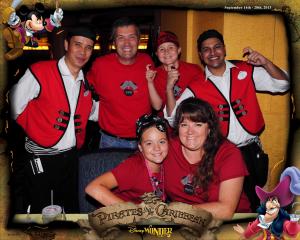 Can you guess that Alex begged to go to the pirate party with her new friends? Well, she did. William went with us and we met up with Mike, Jane and Emma on Deck 10 and had a bird's eye view of the Edge group dancing their hearts out on Deck 9. Our dance instructors, Chris and Natalie along with Chris' mom and Natalie's husband, joined us as well. It was a fabulous party that culminated with Captain Mickey zip lining across the ship to save us from Captain Hook and an amazing fireworks display at sea. Everyone loved it and I would highly recommend Deck 10, starboard side for the best viewing. We all stuck around for awhile singing and dancing. Alex stayed with the Edge group and partied the night away – well, until 1:00 a.m. The other three of us retired to our stateroom. The boys fell asleep and I waited up until Alex made it safely home.