Sunday, September 22, 2013
Today was the day the whole cruise revolved around — Panama Canal Day! We woke up at 5 a.m. to start the process of crossing the Panama Canal. Sleepy kids groggily pulled on their clothes and we made our way up to Deck 10 to grab some chairs and watch the goings on. It was still dark when we staked out our spot.  Before too long some of our dining neighbors – Jessica, Hunter, Raymond and Don – joined us.  Having friends with us made the waiting parts go a bit faster.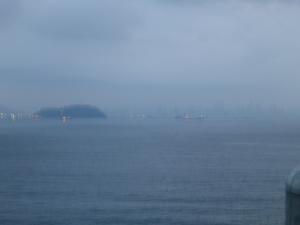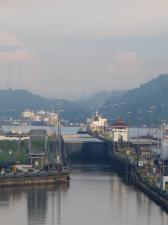 Around 6:00 a.m. we started on our journey and crossed under the Bridge of the Americas. By 7:00 a.m. we had entered the first of the two Miraflores locks. The kids were interested until we finished the first lock. Then we lost them! In true tropical rainforest fashion, it was hot and humid and the rainstorms were hit and miss all around us. Lance and I, however, loved every moment of it! We crossed the Miraflores Lake and by 9:30 a.m. we were entering the locks of Pedro Miguel. When we finished at Pedro Miguel, the Wonder had risen about 85 feet above sea level.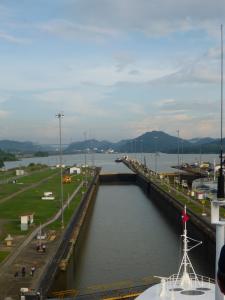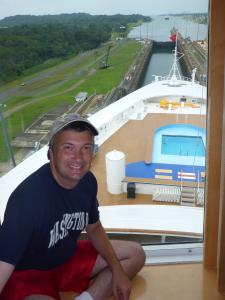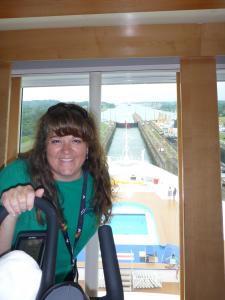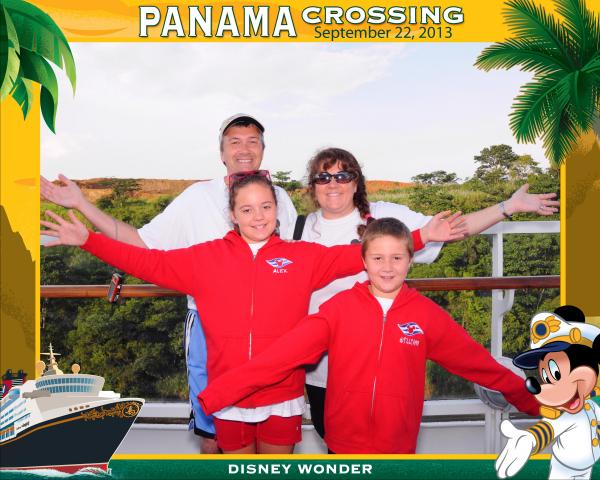 By then it was time for Lance and me to get ready for our brunch at Palo adult-only restaurant. We sent the kids to the clubs and we dressed up. Luckily we were able to get a great table by the windows and watched the great scenery as we crossed Gatun Lake. Palo was all we had heard it was! Toni, our Croatian server, was terrific and took excellent care of us.  Our favorite dish? The chicken parmesan.
Later in the afternoon, Lance and I went to the fitness center and watched the passing of the Gatun locks in the comfort of air conditioning. Why didn't we think of that location earlier!?  The only bad thing is that only 18 and up could be in there so the kids couldn't have joined us. I guess it was a good thing the kids were bored and done with the Panama Canal Crossing.
The early start to the day (and those two mimosas at Palo) was catching up with me so I went to the stateroom to have a nap while Lance went to the Cadillac Lounge to watch some NFL football.  When I woke up from my nap, I had a roaring migraine but I needed to check on the kids. Alex was having a blast in the Edge and I found William – taking a nap with AJ!   Those boys must have played themselves out!
There was no show that night. Instead, they were showing Planes 3D in the Walt Disney Theatre. We had planned on watching it together as a family but since William was already asleep and I still had a migraine, I went back to bed. Lance and Alex went without us. Funny thing is that Lance fell asleep in the first 10 minutes of the movie.
On my way to dinner, I made my daily stop at Shutters to check out our family's photos. While there I found a picture of the little boy from the pool. I followed security's request and had Shutters send the photo to security. Within an hour, Nick found the mom and called me to give an update. When confronted with what she did, the mom denied pushing AJ in the pool. I could feel my blood begin to boil as Nick was telling me what happened. Then he said that they showed her the video surveillance.   Ooops!  She then changed her story and ended up apologizing. I don't know what all was said to her but Nick assured me that she won't be making that mistake ever again. Although I wish I hadn't had to deal with security, I am thrilled to know they take complaints seriously and follow up and through with investigations.
By dinnertime, my headache was beginning to go away. We enjoyed our dinner at Parrot Cay with the Panama Canal menu. I love salmon so most nights I ordered grilled salmon. Tonight was one of those nights. As always, it was grilled to perfection as was Lance's steak. Can the chefs of the Wonder come home with us?
Following dinner, William and AJ took advantage of the Dine and Play when youth crew members come to the dining room to gather the kids while the parents enjoy the rest of their dinner and dessert. Alex went to the stateroom to put on her swimsuit since the Edge was having a private pool party up on Deck 9. That party was followed by a glow dance party.  What will my sweet girl do when she is back home and back to the early bedtime?
Since my migraine wasn't completely gone, Lance and I took a quick stroll in the moonlight before heading back to the stateroom for me to rest. He collected William and then waited up for Alex to arrive home.