Saturday, September 21, 2013
After a week of go, go, go, the whole family slept in until almost noon! Obviously, we need our beauty sleep. After our lazy morning, we arrived at the Goofy Pool just in time to watch Captain Thord challenge Cruise Director Jimmy to a Wii Bowling game on Funnel Vision. It was a beautiful, sunny day on the Pacific Ocean and we enjoyed the challenge. Captain Thord soundly beat Jimmy. What was the penalty for losing? Jimmy was thrown in the pool! The kids squealed and ran over the second Simon asked for kid volunteers to help with the task. Jimmy was a great sport and let a gaggle of kiddos throw him in the pool. We loved the fun atmosphere the crew created with this challenge!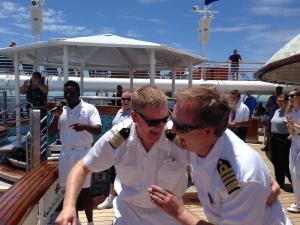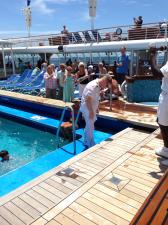 Both kids were chopping at the bit to join their friends so William headed to the Oceaneer's Lab (did I mention that the club will feed your children if they are there at mealtime?) and Alex headed to find a friend to go eat at Beach Blanket with her.  This freed Lance and I to go take another dance lesson with Natalie and Chris. Today's dance?  The Salsa! We had the best time!!  Not only did we learn a new dance, we were treated to a one-man comedy show by Chris. And while neither of us are ready for an exhibition, I think we can hold our own at the Holly Ball for Cotillion this December and not embarrass Alex too badly.
On the way to our assigned time for the Galley Tour, there was another chipping contest. This time, I signed up along with Lance. While neither of us won this time, it was fun and great way to pass the time! We had tried to take the Galley Tour earlier in the week but due to the overwhelming response, they broke us up into groups and gave us assigned times to return. Today, we were lucky to get Chef Silvio, the chef of Palo, as our tour guide. It was amazing to see behind the scenes of food preparation. The kitchen was compact but still huge and what struck me the most was the cleanliness of the galley. I expected clean but this was beyond clean! And we loved hearing about the over 15,000 recipes they have; about the process of food prep and how our servers work with the chefs to each personalized order out to us so quickly at dinner! Bravo, Disney!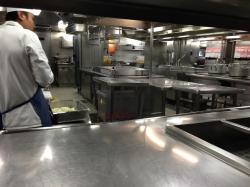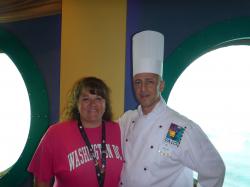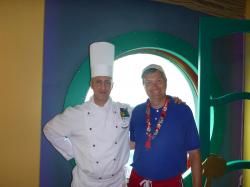 On our way out of the tour, we ran into Grant Norman! It was exciting to be able to stop and chat with a Broadway star.  He was great about visiting with us and answering our questions. He is a truly talented man and I can't wait to see what is next in his career. His voice gives me chills!
William had mentioned that he wanted to (FINALLY) go to the pool so we headed to the lab to pick him up and change into our swimsuits for some fun in the sun. Alex didn't want to join us as she was in the middle of a Brains vs. Brawn challenge with her fellow tweens at the Edge. While we were at the pool, we ran into one of William's new friends, AJ.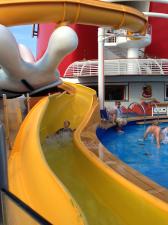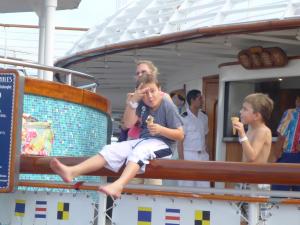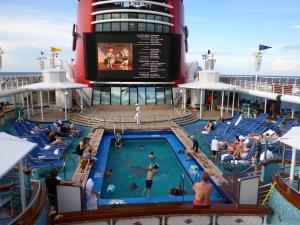 William, AJ and another little boy were playing on the pool deck while I was enjoying an ice cream cone and some sun.  As I was watching, AJ in a horse-playing manner pushed the other little boy in the pool — replay of Jimmy being pushed in from earlier?! Next thing I know, the mom of the other little boy jumps up from her chair about 30 feet from the boys and started cursing out AJ and William (who was just standing there!) and was screaming her son couldn't swim and how dare they push her baby in the pool. Of course, I wondered why her son wasn't in a life vest as they are right by the pool for guests and why the mom wasn't sitting by the pool within arm's reach if he couldn't swim. Before I knew it, the mom climbed over the edge of the pool, looked down at her "drowning" son and then before even saving her own child, took both hands and shoved AJ into the pool. I couldn't believe I saw what I saw. I was already on my way to the pool deck and this just made me move faster! 
My first priority was to make sure AJ could swim and was okay. He hit his head when he went into the pool and seemed shaken but not hurt. The other mom was making her way out of the pool and I went over to talk to her and let her know that I saw the whole thing. I wanted to reassure her that it was just horseplay and also let her know it was not okay for her to put her hands on someone else's child. She immediately began screaming at me. I walked off after saying my piece and found AJ's mom. As soon as AJ made it to his mom's side, he lost it! Poor thing just couldn't stop crying. I can't blame him!! 
I was so very mad that I sent my guys on to the stateroom to get showered for dinner while I filed a complaint with security. Since I didn't know the family's name, the security director, Nick, asked me to be on the lookout for the family so he could follow up on the situation. By the time we met back up with AJ, he was much calmer and he and William decided they were on a mission to find out the name of the other family. They were so cute about it! 
The show tonight in Walt Disney Theatre was a salute to Alan Menken's music. The theatrical cast picked their favorites and sang beautifully. We were able to see the cast as themselves and not as characters in the musicals. Super fun! After the show, we ran into Ashley and we actually had Alex with us! We were able to show her that yes, in fact, we did have a daughter.
Following the show, we all headed over to Animator's Palate for the Savor the World menu. William's friend AJ joined us for dinner.  The boys started obsessing about their "mission" and we had to put an end to the mini-detectives before the main course was served.  Those boys were like dogs with bones!
Following dinner, we headed to the lobby atrium to have some fun with some of the characters. As always, it was a great time. As soon as the characters said goodnight, the kids headed off to their respective clubs. Alex informed us later that the highlight was when the officer's joined them for a dance-off using the Wii's Just Dance game. The tweens were leading until the last song when Officer Ashley pulled into the lead. Surprisingly, Officer Jimmy came in second — guess having a tween comes in handy.
With the kids safely tucked into their activities, Lance and I headed up for one of our moonlight strolls. Tonight we were in the bay of Balboa in Panama. It was truly amazing to look across the bay and see all of the boats around us. Everyone was in line to cross the Panama Canal. Lucky for us, Disney pays the 10% surcharge and we get to be one of the first ones through. Can you guess how much it costs the Disney Wonder to cross? $355,000!!!
Before we knew it, it was time to collect William from the lab and wait for sweet Alex to make it back to the stateroom.  Sleepy time!