Friday, September 20, 2013
This morning we all did our own thing after breakfast. For me, I wanted to catch at least one of Captain Puckett's lectures on the Panama Canal. I picked a good morning to go as he told a hilarious story about a spider monkey on the loose in the wheelhouse of a ship! Next time you see me, ask me to tell you all about it! I want to see your face when you hear what it did!
The kids ate lunch with their friends while Lance and I enjoyed a quiet lunch on the open deck. We met up with the kids in time to catch the Princess Gathering. We all enjoyed saying hello to the princesses – even William.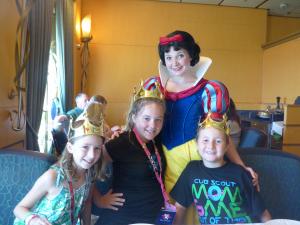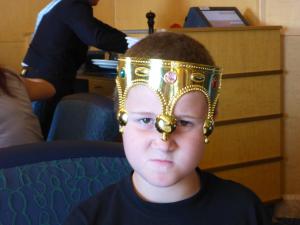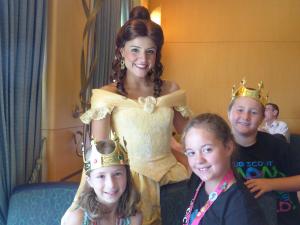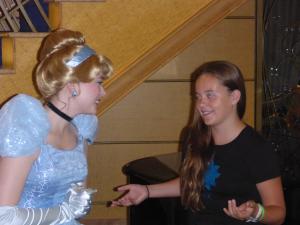 Afterward, since William was the only one who had seen Monsters U, we decided it would be a fun thing to do as a family. The movie was so very cute!  It was so good we didn't even mind that the film messed up and ended with 10 minutes left in the movie. We left knowing we would catch it at the next showing.
This afternoon was the day of our special Tea Party with Ariel at Triton's. One of Alex's new friends, Kaylin, joined us.   The boys stayed for the sweets but found it to be a bit too girly for them so they left about halfway through. That was fine with us girls because we had more time with the princesses ourselves. Belle, Ariel, Snow White, Tiana, Cinderella, Suzy, Perla, Minnie and Daisy came by to say hello.
Tonight's show was Toy Story the Musical. It was a fabulous show that the whole family really enjoyed watching.  Afterward, we were able to see some more of our favorite characters. William enjoyed visiting with Captain Hook — William was even able to scare Hook with the crocodile chomp. William also had fun seeing Peter Pan. In fact, William gave him a pin from his lanyard. Peter Pan loved it and later that night, William had a notecard from Peter Pan.  Attached to the notecard was a Duffy pin wearing a Peter Pan hat. Talk about making a boy's night! That did it!
Time for dinner — didn't we just eat?!   Tonight's theme was Mexicali and our dinner rotation was at Triton's. Asif and Renato did a fabulous job yet again making sure all of our needs were met and we were stuffed and couldn't put another bite in our mouths. Alex jetted off to the Edge as soon as her fork was put down from dessert. We didn't see her again until 1:00 a.m. William decided to hang out with us and we walked around the ship. We had gotten to know the assistant cruise director Ashley over the past week but Alex was never with us. We ran into Ashley again tonight and she told us that she didn't believe we had another child on this cruise! Since we were so near Shutters, she walked over with me so I could find a photo with Alex in it! Finally, she said she believed us. We roamed around the ship a bit and took in a moonlit stroll with William tagging along. Before we knew it, it was bedtime. Of course, even though I was in bed, I didn't go to sleep until our sweet girl made it back from the Edge.