Hi, we're the Fortune Family from Little Rock and we went to Universal Orlando recently, with many thanks to Small World Big Fun and Stone VIPs.  It was lifelong memory-making stuff and I won't include a lot of the pictures we took because you and your family need to see it for yourselves, but hopefully this will get you thinking about it …
We're big Harry Potter fans. Not necessarily "dress up like the characters and go to the grocery store" (though maybe closer to that now) but fans – we've read the books, we've re-read the books. We own the movies. We've seen the movies. Every time Freeform does a "Harry Potter Weekend" we don't get much done around the house. Fans. As someone who grew up on the epics of Star Wars and Indiana Jones, it's a blast for me to share these experiences with my kids.
I haven't done all the math but as near as I can tell I was in my 20s and childless when the books and movies came out, so I'm a bit late to the game and I really wish I'd seen all the movies on the big screen (you could make a lot of money re-screening those I think), but it's a big hoot doing all this with my family now.
For what seems like decades (but he's 12) my son has seen Universal Orlando Resort™ ads and said "we're NEVER going to go there" in that special half-whine / half-longing way kids do. And as parents, we try our best to correct the whining, but we always knew we'd do what we could to get there.  Because we wanted to go too.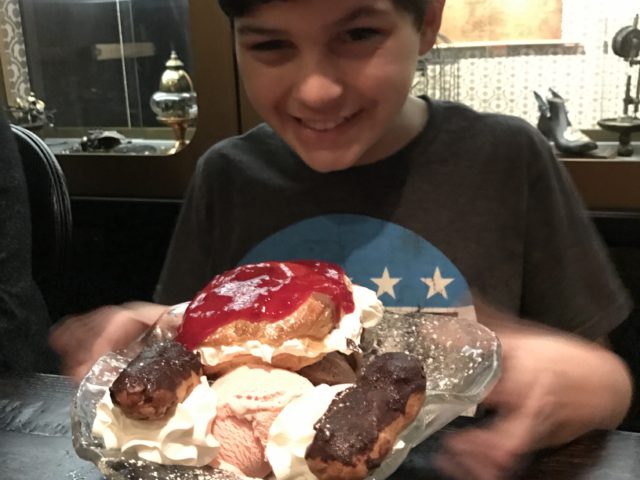 So, we cashed in the Southwest Airlines Visa points, told Cindy Minor "let's do it" and surprised the kiddos on Valentine's Day with a Harry Potter gift box detailing our trip to Universal Orlando for the upcoming long weekend. Plus, the trip was just before my son's 12th birthday so it fit in nicely with that celebration, it's not "high season" in the parks and the weather's great in Orlando, so why not go???
Note: what I should write here is a beautiful description of how surprised the kids were on finding out we were going including embedding the video we shot capturing the surprise. But we woke them up early for school for the "Big Reveal" and to say their sleep-induced state took over the surprise would be an understatement. It isn't worth watching. But we'll keep it for when they take their kids someday. The lesson?  14- and 12-year-olds don't surprise easily. At least not early in the morning.
So, we drove to Memphis (MUCH cheaper and non-stop flights by driving 2 hours to leave and when you're buying 4 plane tickets that MATTERS) and took off on Saturday (also much cheaper to fly on Saturday).

Some things to keep in mind:
Universal Orlando is 3 sections (at least in my mind): Universal Studios (that's one Park), Islands of Adventure (that's another Park) and Universal City Walk (eating / shopping district just outside the Parks)
You can walk between all of these attractions, and you will, you will walk a lot; but it's pretty easy (especially with older kids) to go between the parks & City Walk.  Universal Orlando is big, but it's not so gi-normous that you must take trains, busses, shuttles, etc. to get from park to park (you know, like that other place in Orlando)
Here's What We Did, if you'd Like a Detailed Itinerary, Just Let Me Know and I'll Make One up (I can't remember it all!!)
Drive to Memphis
Fly (non-stop – woo hoo!) to Orlando
Super Shuttle through Universal to Loews Royal Pacific at Universal Orlando (more on that later)
Universal City Walk – Toothsome Chocolate Factory.  More on that below, but bring your appetite.
HARRY POTTER TOUR VIA STONE VIPS!!! (more below, but ALL CAPS = FANTASTIC)
Universal Studios – Springfield (Simpsons), E.T. ride, Men In Black ride
Collapse at hotel (can't remember if we ate that night or not, but I think our son swam at the hotel while watching a movie poolside while my wife and I had a drink by the pool, but the recollection is fuzzy)
Flight of the Hippogriff – short (duration) roller coaster, fun, fast but not too scary for the little ones (or those who act like little ones like me)
Shopping, always the shopping
High-tail it during Express Early Open Hours at Islands of Adventure to Hogsmeade / Hogwarts and re-ride Forbidden Journey
All over Islands of Adventure (Spider-Man ride, Jurassic Park (water) ride, Dudley Do-Right (lotsa water) ride
Over to Universal Studios, Minions Ride, walked all over again just to see it all, saw the afternoon parade
Did I mention we shopped a lot??
Went to Disney Springs (formerly Downtown Disney … or maybe that changed years ago and I'm just catching up) and had a fantastic dinner at Homecoming Florida Kitchen – highly recommend (shrimp and grits was awesome). Plus, they have a moonshine menu. Draw your own conclusions from that sentence.
Note: Lyft from Royal Pacific to Disney Springs – $14. Taxi from Disney Springs back to Royal Pacific – $35. Anyone wonder why Lyft and other ride-sharing apps have a business???
High-tail it at park opening at Universal Studios to Diagon Alley and re-ride Escape from Gringotts
Some last-minute shopping, because of course
Back to hotel, lunch, checkout … hope that our luggage is within weight limits (did I mention we shopped?)
Super-Shuttle back to Orlando airport and non-stop (woo hoo!) flight to Memphis
Drive home, realize what a fantastic time we had!
Collapse, go back to work / school the next day — but as Wizards!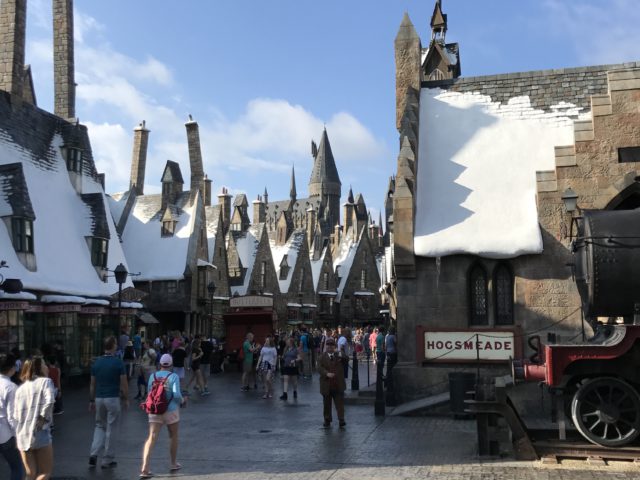 We Arrived at Universal Orlando as Muggles and Left as Wizards
So, the primary attraction for this trip was the Wizarding World of Harry Potter (WWoHP), which is actually two sets of attractions (Hogsmeade / Hogwarts at Islands of Adventure and Diagon Alley at Universal Studios).  The attractions are connected by the Hogwarts Express, which you MUST ride both ways — not because you have to, but because the ride is absolutely unique in each direction and is oh so cool. And you leave from Platform 9 3/4 at King's Cross Station — and yes, you get to the platform the same way Harry, Ron and Hermione do it in the books. Trust me.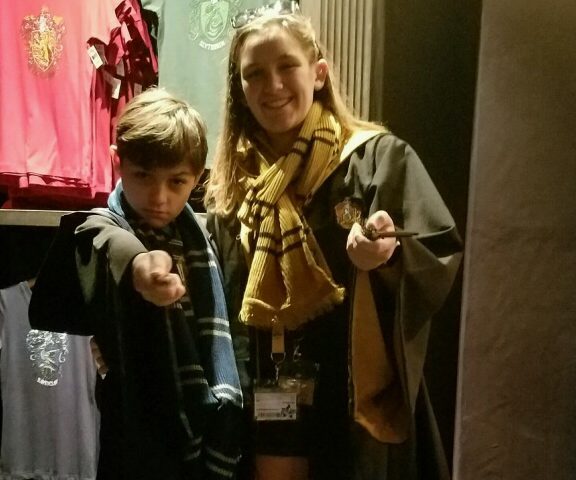 I think one would get a huge kick out of WWoHP because it is an amazing spectacle just in all that Universal has built whether or not you've read the books and/or seen the movies, but it is absolutely unbelievable if you have.  From the amazing detail of what they've built in all locations to the "spells" (yes, you'll be buying your kids — or yourself — a wand, we were partial to Fred Weasley's and Sirius Black's wands) to the great treats (Frozen Butterbeer rocks!) all things WWoHP is just such a thrill.
You'll Never Want to Stand in Line Again — Stone VIPs
You know how even on family vacations (or maybe especially on family vacations) the days can drag and you might even get on each other's nerves a bit?
No??
So, it's just my family?
Well, ok, humor me then.
On a Stone VIP tour, that does not happen. The day flies by and you just wish it could go on for a lot longer.
We did our "Harry Potter Day" with Dinah, a guide from Stone VIPs and it was totally worth it.  Not only do you get through lines faster and have a fantastic journey through the WWoHP with Stone you also get a unique, "inside" look at how the park developed, ties between the park attractions and the movies and books and just the whole Harry Potter experience.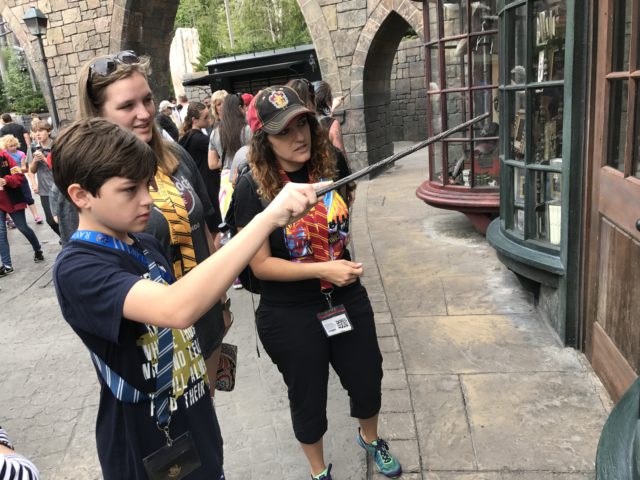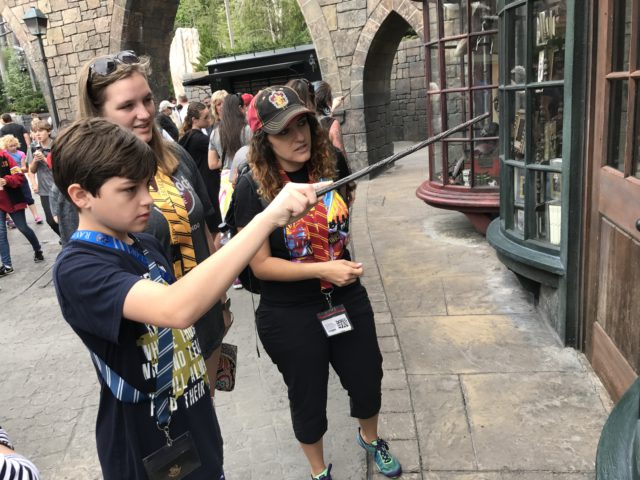 Most importantly, my kids had a blast with Dinah!  She brought an energy and excitement that kept the kids enthralled throughout a 6-hour tour across the parks, peppered with trivia questions and tips / tricks about the parks, the books and the movies.  And let's be honest — rare is the parent or grandparent who can do that.
I'm not sure I realized just how great it was until we went back through WWoHP without a Stone Guide and saw just how much we missed without being guided by such a great group. Once you've returned to "commoner" status and you longingly stare at the other side of the barrier where folks breeze through and get all the great insider tips — you realize what a great, unique and valuable experience it is to have a personal guide through WWoHP — it really makes the whole thing amazingly memorable.
Wizarding World of Harry Potter is great. With Stone VIPs, it is unbelievably great.
Things We Highly Recommend
All things Wizarding World of Harry Potter — really, it's just so cool, even if you're not huge Harry Potter fans
Express Passes — makes lines SO MUCH easier and faster
Staying at Loews Royal Pacific — very nice rooms, easy water taxi access to parks, very convenient
Tip: Tower 3 rooms are closest to the water taxi, so think about requesting a room there
Toothsome Chocolate Factory — yes it'll be a 2-hour wait, yes you have to order dessert 45 minutes early – but it's so worth it, just a super cool and unique place and the food was great (HUGE portions by the way, you can't eat it all)
Spider-Man simulator ride was a blast
Water rides were all a lot of fun — you WILL GET WET
The hop over to Disney Springs was a nice change of place and Homecoming Florida Kitchen was fantastic — great shrimp and grits and a moonshine sampler — what more could you want?
Use Small World Big Fun — you don't want to plan this stuff on your own, do you? It costs you NO MORE to use them, so just do it.
Things We Didn't Do Because We're Not Really Roller Coaster People, but I'm sure they're quite fun
Incredible Hulk roller coaster
Rockin' Ride roller coaster
Dragon Challenge roller coaster
Dr. Doom Drop (not a roller coaster)
It's Not All Harry Potter
There are many, many other things to do in these parks that are not Harry Potter related. My kids are 14 and 12 so we didn't do as much of the smaller kid attractions as we would have a few years ago, though we did the "roller coaster" in Seussland just for fun (and a pretty cool view of the park from above).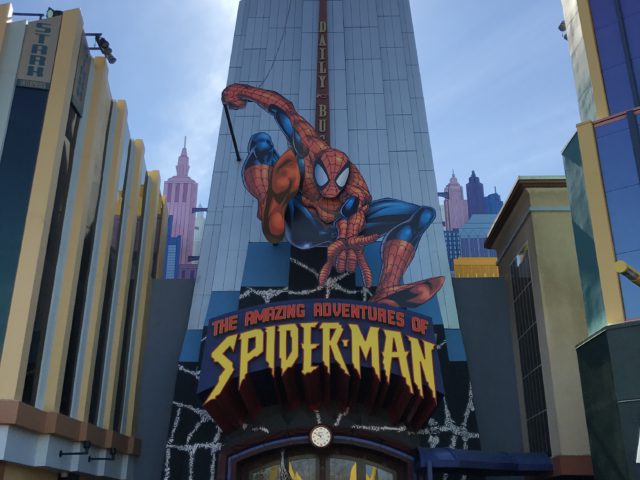 Universal seems to really have many of the "simulator" rides that are really cool in the thrills and chills they offer.  We were partial to the Spider-Man ride (rode multiple times), the Simpsons ride is a ton of fun (and there's a very similar one at Universal in Los Angeles) and Men of Black gives you a chance to shoot aliens (you get spun REAL fast in that one).  The Minions ride is also great fun in that area.
If you're into The Simpsons that section of Universal Studios is fun with lots of games, The Simpsons Ride, lots of places to eat.
Oh Yeah, We Ate Great Too!
Toothsome Chocolate Emporium — we went there as soon as we got to City Walk on Saturday night, we put our name on the list for a 2 hour and 20-minute wait and then went shopping and walked around until then — but, it was worth it. Such a cool place, fantastic food (it's way more than Chocolate), HUGE portions (see photo, that was 1 person's dessert!).  And, you order dessert when you sit down as it takes 30-45 minutes to make dessert — what's not to love about that??!?!??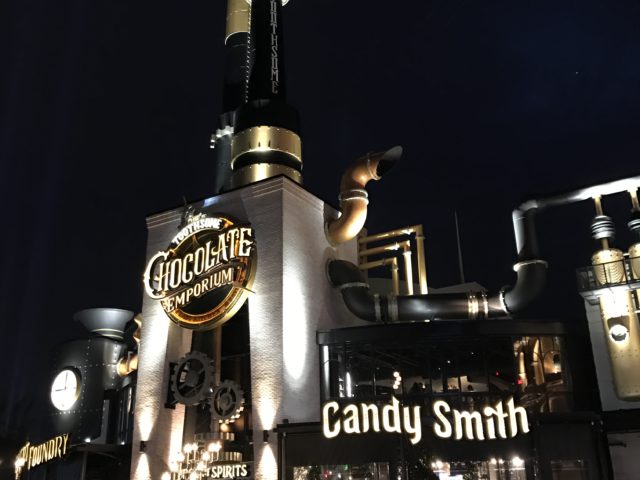 Other great eats (by the way, sometimes "great" means highly functional for a family on the move):
Confisco's in Islands of Adventure – good sit-down lunch during a long day of park walking
Homecoming Florida Kitchen at Disney Springs – did I mention they have a moonshine menu?  I'm pretty sure there was great food too.
Handy breakfast pre-park – if you stay at Royal Pacific there's a grab and go breakfast set-up that is great for grabbing some quick food and heading out to the water taxis to get to the parks
Three Broomsticks at WWoHP – just so cool to do all that stuff
LOTS of great sweets and ice cream stuff in Diagon Alley – the best ice cream we had was at Florean Fortescue's (lots of flavors inspired by the books)
All kinds of Simpsons-inspired eats in the Simpsons section of Universal Studios including Flaming Moe's (non-alcoholic, fun for the kids), Krusty Burgers and Duff Beer (non non-alcoholic)
Jake's American Bar at Royal Pacific was good, very casual, outdoor seating by the waterfall
I Know this is Small World Big Fun's Blog, but Still …
I don't work on my own car.
I fix very little around my house (we're all safer for that).
And I do not know the best way to plan a family "destination" vacation like this, nor do I want to learn. There are experts for this, and THE BEST are at Small World Big Fun. While I know so much of their business involves the "other" really fun places to go in Orlando (and we've used them for those trips 3 times so far) they really know Universal Studios well,  and their relationship and the opportunities with Stone VIPs is awesome.
With Cindy and her team, you can pretty much just show up at time to get on the plane and go — the planning, the ideas for where to go and what to do, all that stuff that can make trips like these stressful — it's taken care of.
And they're NO FEE, so you don't pay them, your trip costs the same whether or not you use them, so why wouldn't you and relieve yourselves of the hassle??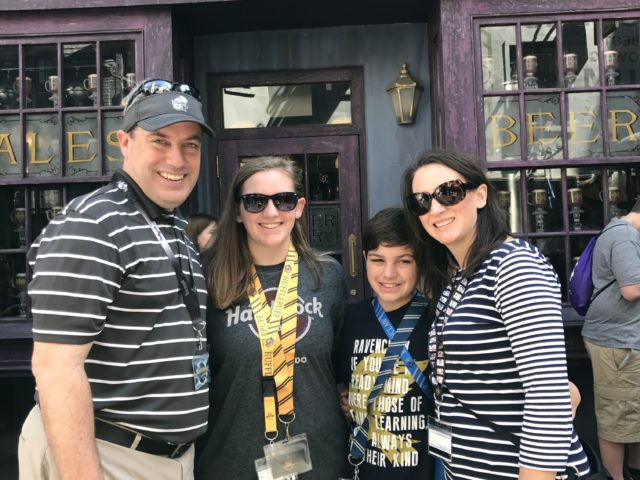 Here Are the Things My Wife Says I Forgot to Mention — She's Right …
If at all possible, stay at one of the resorts that get you Express Passes in the parks — makes a HUGE difference in wait times.
Go to Toothsome Chocolate Factory and just be prepared for a 2-hour wait (at least on a weekend) – PLENTY of time to knock out some shopping or have a cocktail along City Walk.
When you go through Islands of Adventure, wear dri-fit clothes – you WILL get wet on Jurassic Park, Ripsaw Rapids and the Barge (Popeye) ride – and not politely wet – SOAKED – water shoes (Keens, Chaco's, Tevas, etc. are recommended too).
We've got a gluten-free kiddo and there were plenty of options everywhere we went and more than once the restaurant created a gluten-free option.
So, to Summarize …
Go to Universal Orlando.
Spend a lot of time at Wizarding World of Harry Potter, preferably with a Stone VIPs Guide.
Book the whole thing through Small World Big Fun.
Have a blast!