Even at Disney World, Things Can Go Wrong …
There are a lot of reasons why Walt Disney World® Resort is the #1 family vacation destination in the entire world, but one of the biggest is that it is such a memorable and magical place. Families return home from their WDW vacations with stories of magical encounters, photos of amazing moments, and videos of sweet moments between kids and their heroes.
But if you search for "Disney World complaints" on Google, it yields over 17 million results. We may talk about the magic of Disney World, but it's still part of the real world. As much as we'd like to think of Disney as if it exists in a bubble where nothing bad can happen, that's just not reality.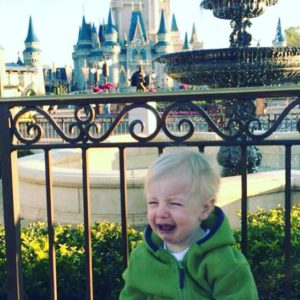 After 20 years of planning Disney World vacations here at Small World Big Fun — 99% of which go off wonderfully well! — there are definitely categories of things that might not be magical. However, there are good and bad ways to respond to the issues that might arise. Here are some of the things that could potentially derail a perfect Disney vacation and what you can do to recover!
Disney Downer #1: The Weather
I wish we (or Disney!) controlled the weather in Central Florida year-round, but unfortunately, Disney can't turn the air conditioner on (or off) or blow away the rain clouds. (Although, who knows? Maybe they're working on that!)
One of the questions we are asked most often is, "What do we do if it rains?" (Because no, your trip insurance doesn't cover rainy weather.) We do help our clients prepare for the weather forecast during their stay, whether it's hot, cold, or rainy. I tell my people all the time, "If it rains, what are you going to do? You're going to go anyway, and you're going to have a fabulous time. There won't be any lines, the crowds will thin out, and there are a lot of things you can do without getting rained on!"
In order to enjoy a rainy day at Disney, what you need to do is change your expectations. Instead of walking up and down Main Street, U.S.A.® on a sunny day, pack your waterproof shoes and pull on a poncho and go enjoy being some of the only people on the street! Splash through those puddles in the park and ride everything with no line because so many other folks will have decided to stay home!
Disney Downer #2: Technology Challenges
The My Disney Experience app is Disney's official app, which many of our clients rely on heavily. It has really become a one-stop shop that can unlock the door to your room, tell you everything you need to know about your itinerary and reservations, and keep you informed on all the plans we've helped you make. Your dining and FastPass reservations are all manageable (and changeable!) through the app.
It's a tremendous tool! You can use the app's interactive maps to help you get from one place to the next. It will give you suggestions of what to do next, based on your plans for the day. You can see when the next bus is coming to your bus stop. You can order quick service meals online so that when you get to the restaurant, it's as easy as saying, "I've placed an order." You also get to avoid long lines by knowing how long the posted wait time is at any time of day.
Want to change your FastPasses or book a dinner reservation? It's all doable from the My Disney Experience app.
That said, it's still technology — and technology sometimes fails us. There have been times when the whole app goes down. Suddenly, you don't have access to your Fast Passes or your dining reservations. Phone batteries die, camera apps crash, and all the technologies designed to make our lives easier at Disney end up making it harder in these rare situations.
If you experience a major technology failure during your trip, I recommend that you find a Cast Member and let them know what is going on. You can also give us a call so that we can help you figure out a solution! If it makes you feel better, take screenshots of your plans and save them on your phone so that if you lose connectivity, you can still access your reservations and plans. We also recommend packing a charger so that you can charge your phone while you're there, either during a meal or while hanging out in one of the official park charging stations.
Disney Downer #3: Humans
People are still people — even at Disney.
Even though you arrive in Orlando and expect everything to be a magical experience, it's helpful to always remember that Disney cast members are people, too. When it feels like 800 degrees outside, or when things aren't going smoothly, remember that you're interacting with a real, live person who has feelings, needs, challenges, and difficulties in their day, too.
If someone on staff doesn't respond in a magical way, that doesn't mean you know the whole story. You don't know what is going on with that person behind their forced smile or tired expression.
When it's hot and crowded and things are not going well, it's always helpful to simply remember the golden rule. Treat people with a little extra grace. Plus, you're going to catch more flies with honey than vinegar! Keeping your cool under pressure and being nice when you could be grouchy will help you get things resolved more efficiently, effectively, and, sometimes, inexpensively.
I tell my clients all the time: Create an opportunity for Disney to do something magical for you. Make them want to sprinkle some pixie dust on you!
You know what doesn't create that desire in people? Stomping your feet, yelling, and acting ugly. People don't want to help when they're treated like that, even if you have good reason to be upset. If you go in and say, "This is our first trip, and this just happened, and we need some help," then you're going to see people bend over backwards to create a magical moment for you.
It's in their DNA. It's what they want to do. You're going to set yourself up for more magic if you have a magical attitude yourself!
So how do you deal with challenges?
This is my advice:
Expectations matter!

There are always going to be things that are out of your control, out of your travel agent's control, and out of Disney's control.

Use your travel agent!

You have someone who is working for you to make sure that you have a wonderful time. There are things we can do to help whenever you run into problems, even though you may not know what those things are. There are a lot of times we can say, "Here's what you need to do," which helps cut out confusion and frustration.

Create a back-up plan!

We'll provide you with a paper copy of your plans, which you can have on hand in case of technology issues. Know what you'll do if it turns out to be a rainy, miserable day during one (or more!) of your vacation days. A shareable Google Doc or cloud file can help you share your plans with multiple people and improve communication, especially when it comes to a backup plan.

Use Disney's Guest Services!

Like we've said, there are some things that we can't do, but Disney may be able to help. The folks at guest services are specifically trained to solve problems. With some issues, you are probably going to get a faster solution by going directly to a Disney Cast Member than getting in touch with your travel agent. If you feel like you're not being heard, though, let us know!
And above all, don't be afraid to advocate for yourself! Speak up. When you're on vacation, it doesn't absolve you of the responsibility of being your own advocate. Ask questions. Ask more questions. Ask, "is there anything else that can be done to fix this?"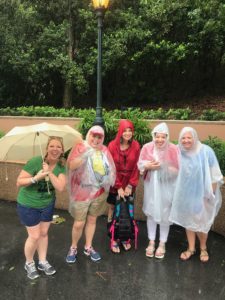 Don't hesitate to point out discrepancies or things that you weren't expecting. If there isn't a solution to the problem, let us know so that we can get involved and advocate for you, too. Once you leave, we don't have access to your room account or charges made to your card, so any post-trip questions will need to be addressed to a cast member. However, during your trip, we can advocate for you as needed.
In over 20 years, the one thing I know for sure about planning Disney vacations is that the best memories you will make from this vacation are things you can't possibly plan! Be open to the magical things that will happen!

We love planning the perfect Walt Disney World vacation for our clients! And in case you didn't know, we do it for free! Contact us today to learn more.