Universal Orlando Resort™ is super accessible from I-4. Compared to Disney the property is much, much smaller and easy to navigate.
We stayed at Royal Pacific, which feels a lot like the Polynesian theme-wise. Check-in was quick and easy. They texted me when our room was available, which was around 4:00 pm. While we waited for our room, we put on our swimsuits and spent the afternoon at the pool. The pool has a fun zero entry & spray park area for the kids. The pool towels were nice and long and had a pocket to slip over the top of your chair to keep it from blowing away. There were many lifeguards and they were very professional and attentive. I watched their "system" for a while and it was impressive. There was a DJ playing tunes by the pool and he played a couple of requests that we made. There was a large bar area that served food and drinks, so several families were enjoying dinner poolside. There were games for the kids … chalk drawing contest, cannonball contest, etc. Around 5:00 they brought out a snow cone machine and free snow cones for the kids and "adult" snowcones for purchase. It was a great, relaxing way to start our vacation.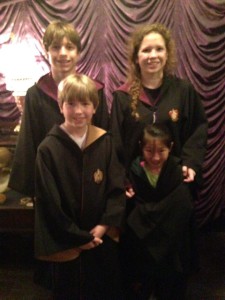 We settled in our room which had a pool view. The room was very spacious and nicely decorated. I especially liked all the outlets and charging stations on the bedside table and desk area. No need to unplug lamps or clocks to access outlets. There was a docking station on the bedside table for iPhones. I loved the bathroom! A sliding door separates the sink area from the toilet/shower area. The shower was nice and large with a rain shower head. I liked the decor for the room very much … tropical but modern. The bellman gave us a tip about taking the stairs at the end of our hallway and it would put us out on the walking trail heading to the parks. This tip saved us a few minutes by avoiding walking through the main part of the hotel and the pool area. We walked to the parks instead of using the boat.
It's an easy 10-minute walk to CityWalk or the parks.
We went to Cowfish in Citywalk for dinner. We put our names on a waiting list and waited about one hour. This was around 7:30 on a Saturday night of spring break. So not too bad, really. Cowfish is a very trendy looking restaurant as are many in Citywalk. The food at Cowfish is Sushi & Burgers … odd combination but they it do very, very well. The kids enjoyed their milkshakes and kid-size bento boxes. The adult bento boxes were excellent — sushi and mini burgers that are very very tasty!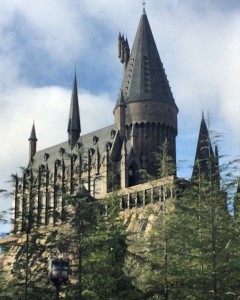 We did a one day, park-to-park whirlwind tour of Universal Studios Florida and Islands of Adventure. We arrived at the gate of Universal Studios at about 7:30 am with an early park opening for resort guests at 8:00. I would recommend arriving at this time to avoid the very, very, long, slow line trying to enter the park. Our plan was to do Minions, Diagon Alley (Escape from Gringotts) and then take the Hogwarts Express to Islands of Adventure to Hogsmeade and do the HP rides there. Minions was cute and we raced over to get in line at Gringotts to find that the ride was "down". Many people chose to stand in line anyway hoping it would reopen quickly. Some of the adults in our group did exactly that while the kids explored Diagon Alley shops. Thankfully after 15 mins Gringotts did reopen but the line was already quite long in the cue. We decided it was now or never to do this ride. So we waited and it was worth it. Very, very good! By the time we finished the ride, it was around 9:30 which meant IOA was already open to the general public. At this point, we had been in USF and had experienced the only 2 attractions open in early hours! So we jumped on the Train and rode over to IOA Hogsmeade. Not surprisingly, Forbidden Journey wait was over an hour by now. Realizing there was single rider line our group of 8 decided to go that route and it was a great decision! We also rode the Hippogriff and when we realized Dragon Challenge was down we opted for an early lunch. Three Broomsticks was open and serving lunch at 10:30 so that worked out great. The food was pretty good and the men enjoyed their shepherd's pies and the women enjoyed large salads. Several of us tried the butter beer and thus began an addiction. We voted that the frozen version was the best! There is a lovely outdoor dining area at 3 Broomsticks with a great view of Hogsworth in the background. Perfect photo spot! Kids did another single rider at Journey or Hippogriff. We did notice that by the time we left Hogsmeade the line for 3 Broomsticks was very long. So early lunch paid off!
After lunch it was time to experience the rest of IOA. We decided to attack "the wet rides" next – Jurassic Park, Ripsaw Falls and Popeye Barges. On these rides, you don't just get wet … you get SOAKED. We wore our ponchos and purposely wore sandals to the park that day. And just as expected we were completely drenched after riding! Do not wear cotton if you plan on going on these rides. We also experienced Spider-Man and the cute Suess Landing. By this time, we were all craving another Butter Beer and found ourselves back in Hogsmeade.  The Butterbeer carts on the street can have very long lines. If its not meal time its much quicker to just go buy your Butterbeer at 3 Broomsticks.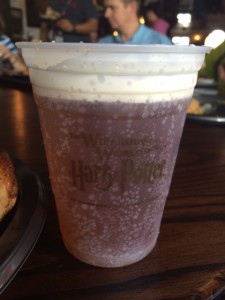 We hopped on the Hogwarts Express to ride back over to USF. The express is different in each direction so its fun to ride it both ways. We wandered around Diagon Alley a while before finishing out the day with Men in Black and Rip Ride Rocket. We had already checked out of the hotel that morning and they had stored our luggage, so we loaded up the car, drove over to Walt Disney World® Resort and checked into our Disney hotel before our 8:00 dinner reservations at 'Ohana.
We had a fantastic meal and experience at 'Ohana and by the time we finished, it was almost time for the Magic Kingdom fireworks. So we sat on the beach at the Polynesian and had a perfect ending to a fun day!