So, you're going to Disney World during the holiday season but, for whatever reason, you didn't purchase tickets to Mickey's Very Merry Christmas Party in the Magic Kingdom. No worries! There are so many other things to see and do at Disney World that you'll be in the holiday spirit in no time.
Below are some "insider" tips and advice for activities that are not always included in the standard maps and guides. If you have questions you can contact me any time!
1.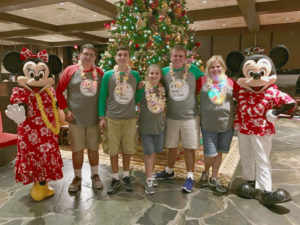 Check out the resorts. Every Disney resort will be decked out in their themed holiday splendor. The Grand Floridian features a huge gingerbread house and a five-story Christmas tree. You can also find characters in the lobby taking pictures with guests and signing autographs at the deluxe resorts. Last year, after finishing dinnerat 'Ohana at The Polynesian, my family was greeted in the lobby by Mickey and Minnie who were decked out in their Hawaiian holiday attire. Most of these activities aren't listed in map guides or schedule sheets, they're just special moments guests happen upon while visiting Disney World.
2.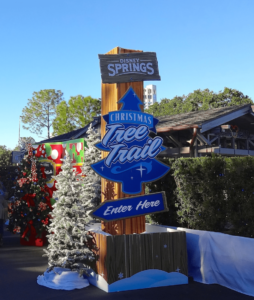 Visit Disney Springs. Grab a hot chocolate from Ghirardelli and take a stroll through the Disney-themed Christmas trees along the Trail of Trees. If you need to wrap up your holiday shopping, the options here are almost limitless! Visiting Disney Springs is free of charge. Go on a stroll, have a snack, and take in all the decorations.
3. Explore the holiday decorations in the parks. At Epcot, Chip & Dale's Christmas Tree Spree is a fun scavenger hunt around World Showcase. Be sure to visit Santas Around the World and learn a little about his history and Christmas traditions in other countries. At Hollywood Studios, you can see special fireworks and throwback decorations from earlier eras.
4.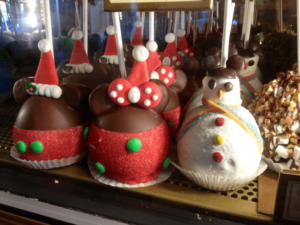 Last but not least… the food! The special treats at Disney World are always great but they are completely over the top during the holiday season. Everything from Christmas-themed caramel apples to the savory Holiday Waffle featured at the Holiday Marketplace in Epcot – a sweet potato waffle stuffed with roast turkey and topped with green bean casserole!
The holiday season is a special time at Disney World. You can visit resorts, take in the decorations at the theme parks, happen upon special groups sharing their cheer, and have some fantastic treats that are beyond the usual at Disney World. Don't let the lack of a party ticket keep you from getting into holiday cheer!