It's all fun and selfies until you lose your mobile phone!
After trying to sneak a peek at the not yet open Remy's Ratatouille Adventure in Epcot, I discovered I didn't have my phone. As this was a research trip to the first day of the Flower and Garden Festival at Epcot, it had been glued to my hand all day!  And I still needed to take calls and capture images for social media.
So what to do?
I retraced my steps… Did I leave it in the bathroom in Germany? Did I leave it when we stopped in Japan for shaved ice? (and took photos with someone else's phone).
Next stop… Guest Relations to see if someone turned it in. There are three Guest Relations locations at Epcot: the International Gateway and the Main Entrance, and at Innovations East. I chose the International Gateway because it was closer to where I last remember having my phone.
Guest Relations Cast Members are the best
The cast members checked their location's Lost and Found, called the other two locations and checked on the computer. It had not been turned in. They were very encouraging. They told me not to worry, that it would be turned in, and that Disney guests were the best people in the world about turning in lost keys, phones, toys, wallets and even money into the nearest cast member.
The cast member handed me a "ticket stub" with the information to go online, complete a form and wait to see if the phone was found.  (The website is www.disneyworld.com/lostandfound or https://disneyworld.disney.go.com/guest-services/lost-and-found/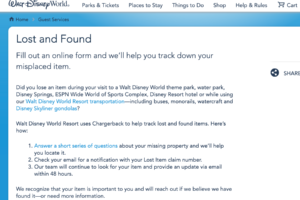 Lost and Found
When I returned to the resort, I jumped on the computer, went to the website, followed the instructions, and completed the form. The form included describing my lost item and entering my contact information, making sure I used a phone number that could reach me.
I received an email immediately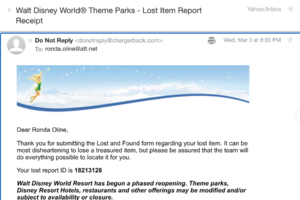 Then I Waited
The very next day, I received this email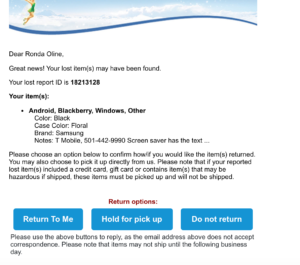 If you can pick up your lost item, choose 'Hold for pick up'. You'll receive and email with these pick-up instructions
Your item(s) will be available for seven (7) days at Lost and Found Pick-Up at the Disney Springs® Town Center Storage House, open daily from 10 a.m. to 6 p.m. The Disney Springs Town Center Storage House is located near Gate 1 of the Walt Disney World® Transportation Bus Stop. Disney Springs is accessible via bus or watercraft transportation from select Disney Resort Hotels or by car.
If you can't, choose 'Return To Me'.  I could not pick up my item as I was headed to the airport to fly home. You'll receive an email with the following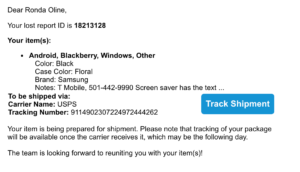 Happily Every After
Ok so maybe secretly I was hoping the phone wouldn't be found and I could get a new one.