Last week I had an incredible opportunity to participate in the Star Wars Galactic Starcruiser at the Walt Disney World Resort in Orlando.
This experience seriously blew my expectations out of the water. Before I go on, I know there may be some of you reading this that are skeptical as to whether or not Disney has truly pulled this off. I'm not going to lie. I was skeptical too. Was Disney really going to be able to make me feel like I was living a Star Wars story? Would there be content true to the Star Wars universe? I'm a Star Wars fan. This was personal. My expectations were high.
What Exactly Is It?
The Galactic Starcruiser is a 2-night fully immersive vacation created to give guests the chance to feel like they are IN a Star Wars story. Think of the Star Wars side stories we love: Rogue One, the Mandalorian, Obi-Won, Andor, etc. Those aren't the main movies, but all stories of how heroes worked to fight against the Empire or First Order. Now, it was our turn onboard the Galactic Starcruiser! 
The idea is that we are on a luxury space cruise when things begin to upset our vacation. Against the Captain's wishes, the First Order also boards our ship, believing there are ties to the Resistance. All of this unfolds in front of the guests by live actors. On your way to the lounge for a Blue Milk you may be stopped by Lt. Croy from the First Order and asked what you are up to – why are you on this ship? Or, maybe the Captain learns your name and confides that she believes you are to be trusted, and to wait for instructions. As time passes guests have the chance to stay neutral, join the Resistance, or stay loyal to the First Order.
Arrival & Day 1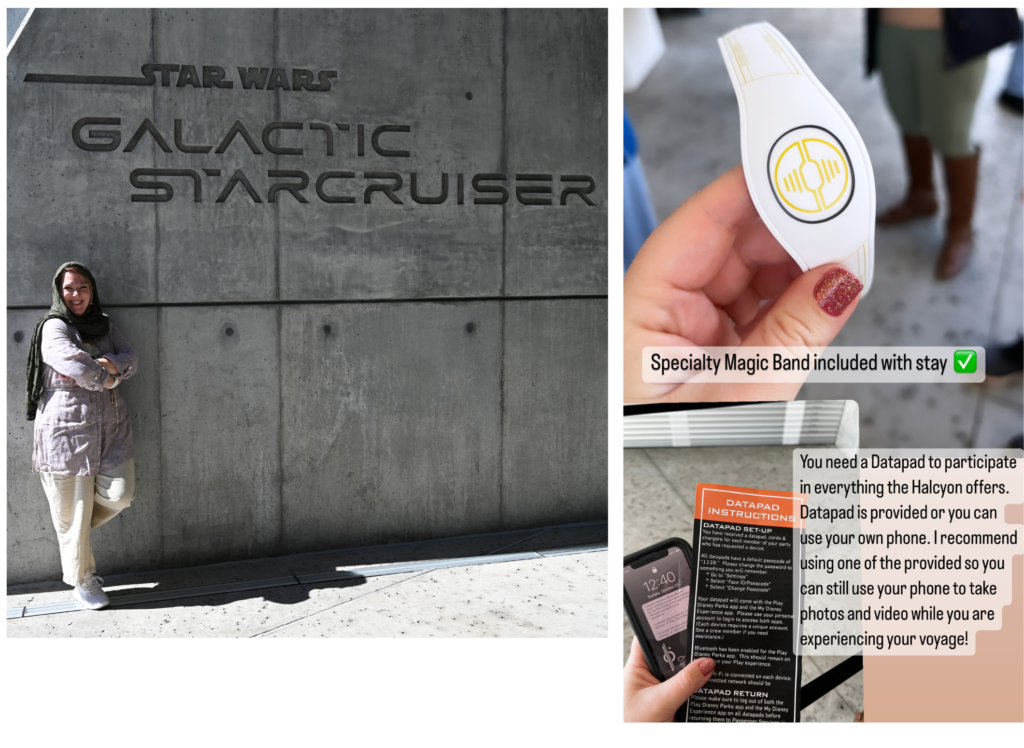 From the second we arrived I expected incredible service, and that is exactly what was given. The doors to our car opened and our bags were taken directly to our room. We were given complimentary Magic Bands to use during our stay, as well as the option to use of their own devices or Datapads (you can use your own phone if you prefer).
After leading us in small groups down a long hallway, we had a brief safety training, then taken to our "launch pad" to the Halcyon ship. The doors opened, we walked into the ship atrium, and my jaw dropped. It was stunning! Every inch of this place was immaculate. We were escorted to our room where our bags were waiting. The Crew member showed us a few of the room features and asked if we had any questions. Then, it was off to our lunch buffet! At lunch we were able to look over the Starcruiser app and learn its features as well as review that day's itinerary. Tonight our group had ship ops training, lightsaber training, and activities in between such as Ryloth dance lessons.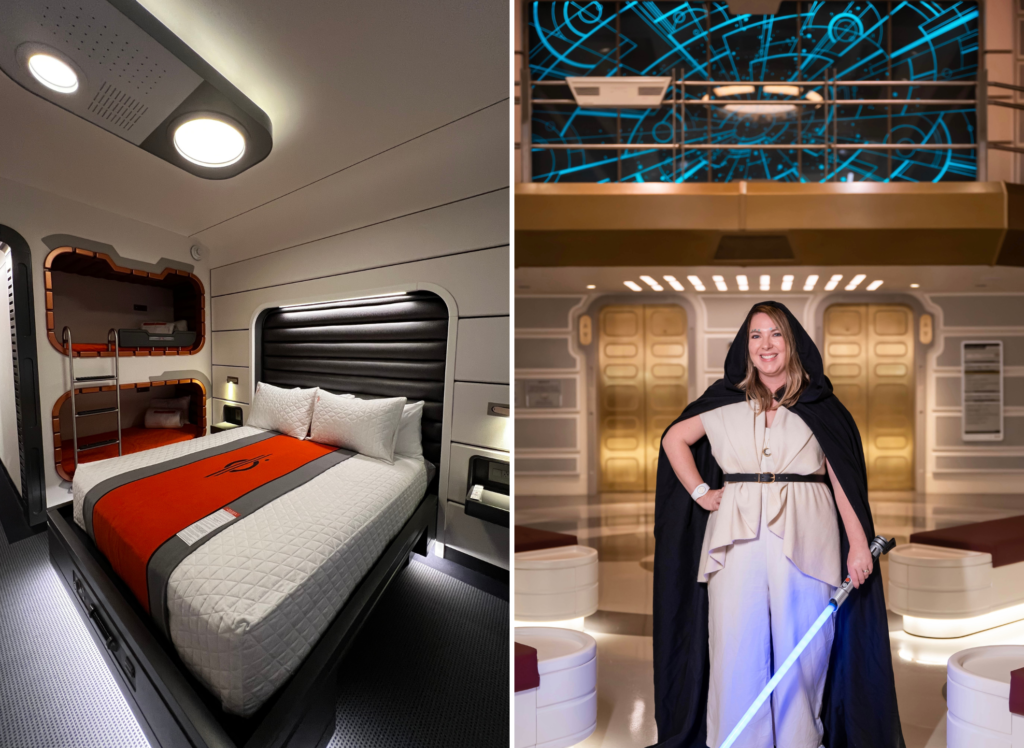 The Star Wars Galactic Starcruiser is an absolute home freaking run. This is hands down one of the best things Disney has ever done. I lived my own Star Wars story and loved the Halcyon and all of the shenanigans we got ourselves into. Costumes, food, lightsaber training, weapons training on the bridge, incredible character interaction in a way I've never known and more. It was all done in a small setting with only 500 people. No lines, no waiting, no worries. As always, what made it special were the amazing Cast Members and other guests willing to play along.
Day 2
On our second day we took a journey to Batuu, or as we call it "Hollywood Studios" 🙂 There we entered the Star Wars section of the park via a private entrance. Here's what made this REALLY special for a frequent Disney World visitor: I was experiencing the Star Wars area in a way I never have before, and would never have the chance to without the Starcruiser! I was completing missions on my Datapad for people who were back on the ship, such as the Captain! With Lightning Lanes automatically loaded onto our Magic Bands, we rode both Millennium Falcon: Smugglers Run and Rise of the Resistance with our MISSION IN MIND!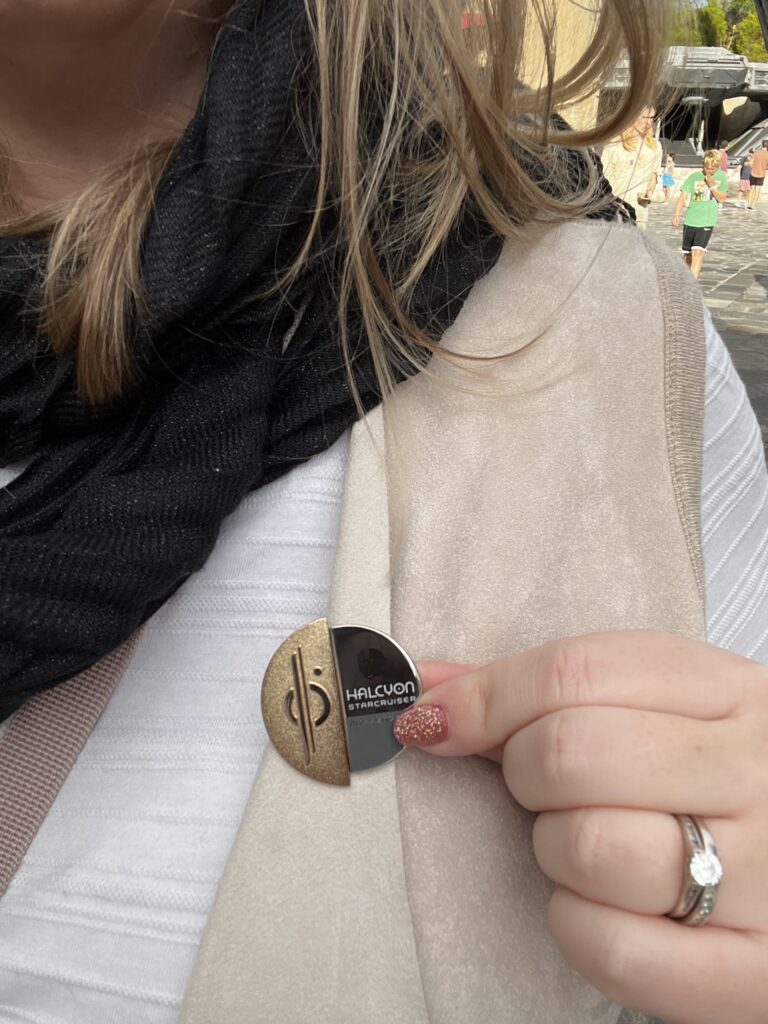 I really don't want to give any spoilers away on how the rest of the cruise went. Let's just say after returning to the Halcyon from being inside the park things started to get VERY exciting back on board.
Before we knew it, the final night was coming to a close and we were left absolutely floored with how special our past two days were.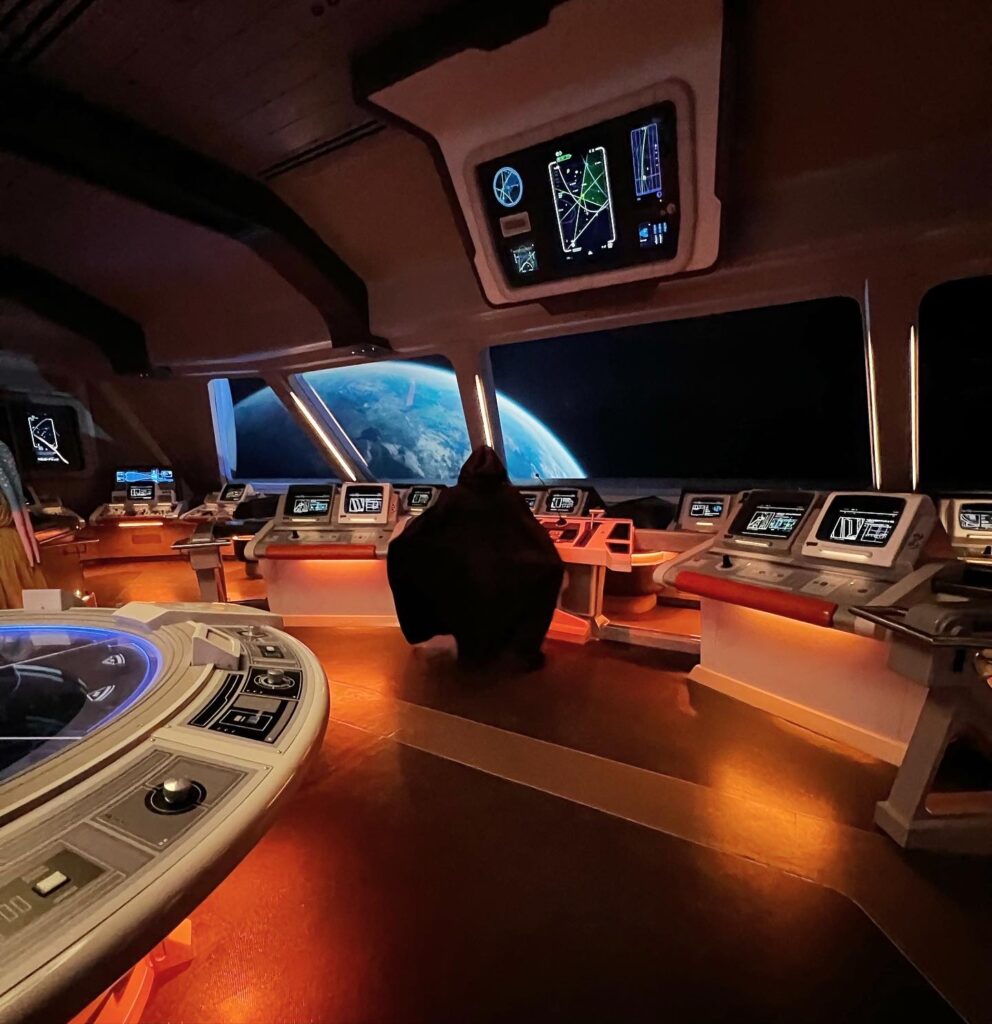 Who is the Galatic Starcruiser Experience For?
Do you have to be the biggest Star Wars fan to go? No! Do I believe Star Wars fans would love this?? YES!! You are encouraged to participate as much as you are willing to – and I would recommend participating!
The Star Wars Galactic Starcruiser would be a perfect getaway for the following: ages 10+, group of friends, couples that enjoy Star Wars, Disney fans that want to try something new, people that enjoy live theater, fans of technology, those wanting a unique experience with their families, Disney fans that want to add extra magic onto a their theme park vacation.
As a Travel Professional, when I go to new places and experience new things I can't help but act like I'm grading that company or destination. The questions is always: Would I send my clients here? When it comes to the Galactic Starcruiser the answer is 100% YES!