Tour Guide: Dinah
In our tour group: Winter and Cadence (mom and 7-year-old daughter) and Mary Elizabeth and Kathryn (mom and 9-year-old daughter)
Date: November 17, 2017
Warning: spoiler alert … the Stone VIP Princess Tour is FANTASTIC!
Now that we have that out in the open, I'd love to share with you our recent Princess Tour with Stone VIP Tours. In full disclosure, I've never taken a private tour at Walt Disney World® Resort before (as I enjoy the process of planning — and conquering — Magic Kingdom), so I wasn't sure what to expect. Whatever my expectations, I can say with confidence that Dinah delivered (and exceeded) any that I had.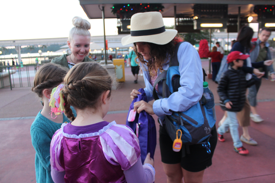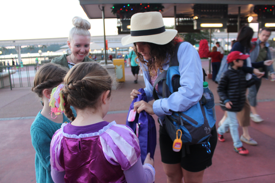 To start our adventure, we began VERY early. Dinah wanted to meet up just inside the entrance gate to Magic Kingdom® Park 30 minutes before park opening, which, on the day we scheduled the tour, happened to be 7:00 a.m.! However, in the spirit of getting to enjoy the early morning, we agreed that 6:30 a.m. would be our meeting time. We laid out all needed princess dresses and accessories the night before and rose before dawn to begin the day.
The early start time ended up being a real blessing — we were ahead of much of the crowd and had plenty of time to snap a few pictures before entering the park. Dinah also explained to the girls what they would be doing throughout the morning to earn "princess status." 
Upon entering Magic Kingdom, we made our way to the castle and quickly realized an unexpected advantage to having a tour guide — we could ALL be in the pictures together!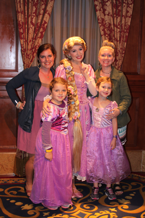 We began our tour by meeting four princesses in a row: Cinderella, Tiana, Rapunzel, and Elena of Avalor. Each princess encouraged the girls on their journey to becoming a real princess — Cinderella even taught the girls how to stand like a princess!
Along the way, we were riding all the rides in Fantasyland®, mostly with FastPasses that Dinah had either set up for us before or along the way. We also met Ariel in her grotto, and the girls took on parts in Storytime with Belle.
As Dinah led us from attraction to attraction, she told us of little known "fun facts" about Fantasyland. She pointed out a very difficult to find "hidden Mickey" in some rocks and showed us the only hidden Oswald the Lucky Rabbit (a precursor to Mickey Mouse).
Surprises around every corner
An unexpected extra that Dinah helped make happen was arranging for us to ride the carousel with Cinderella's stepsisters and practically skipping the line afterward to get their autographs because Dinah knew exactly where to go! They were a highlight for all of us.
In total, we experienced 14 attractions (including the princess meetings), ate a snack at Gaston's Tavern, and learned a ton of cool information about Disney, all in about five hours … but that's not all …
The Best Was Yet to Come
One of the main reasons we decided on the Princess Tour was the opportunity for the girls to become "real" princesses. They weren't just given the title, though — they had to earn it! This was done by completing four tasks: they each had to perform an act of kindness, an act of bravery, an act of patience, and an act of leadership. While we were enjoying Fantasyland, Dinah was leading a discussion that revolved around these important characteristics. We discussed with the girls why a princess should exhibit patience, for example, and how that carries over into our everyday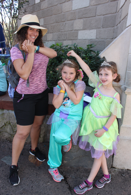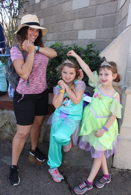 lives. I loved listening to the creative ways the girls suggested for fulfilling their challenges (and watching the sense of accomplishment on their faces as they completed each task). Honestly, this brought a whole new level of achievement and fun that I had never thought of experiencing at Disney. 
After the tour ended, I asked the girls to describe their favorite part of the tour, and they both agreed that the challenge of becoming a princess was great (and getting to ride all the rides in Fantasyland — especially the Seven Dwarves Mine Train). As moms, we loved having someone else in charge of photos, handling autograph books, leading us, and having a plan. We were truly able to sit back and enjoy the time at Magic Kingdom with our girls. All four of us agreed that we never felt rushed, yet we accomplished so much in a relatively short amount of time. Kathryn even said, "There's nothing Dinah could have done better; she did everything so well!"
I don't want to mention all of the other super-special things Dinah did with the girls because you have to experience it for yourself, and I don't want to spoil the surprise! The Magic Tour secrets are almost as much fun for adults as they are for the kids!
A Whole New Way to Experience Walt Disney World
Hands down, a great time was had by all! I would recommend this tour to folks who've been to Magic Kingdom many times and want to experience Fantasyland through totally different eyes. I'd also recommend it for those who've never been and who want a stress-free, comprehensive visit. I hope that you'll try a Stone VIP Princess Tour on your next Disney vacation — you won't regret it!
Mary Elizabeth understands the needs of many families and can orchestrate a trip that will be perfect for anyone! Contact her at 205-612-9068 or [email protected] to get started planning your trip today!