This post is co-written by two of our Walt Disney World Dining Plan experts, Ashley Russell and Barbara Cash.
Let's talk about the ins and outs of the Disney Dining Plan at Walt Disney World® Resort. All of us at Small World Big Fun want to take the stress out of planning, enabling our clients to fully enjoy their vacation. We know the thought of making dining plans can be overwhelming, so let us take the reins in planning your trip. Our services always include helping with dining during your visit. Here are six things you need to know when deciding if a Disney Dining Plan is a good fit for your family.
1) Disney offers three different Dining Plans.
Park-goers can choose from the Disney Quick-Service Plan, the Disney Dining Plan, and the Disney Deluxe Dining plan. Each plan includes a resort refillable mug so you can enjoy unlimited fountain drinks, tea, coffee, and water in the food courts at your Disney resort. Keep in mind, the mugs are not refillable in the Disney parks. Learn more about each plan here.
2) Not all meals are created equal.
While most table service restaurants require only one table service credit, more than two dozen restaurants are considered "signature dining" and require two table credits. These signature dining restaurants have award-winning menus with acclaimed chefs at the helm. If your family deems themselves "foodies," the Deluxe Dining Plan may be right for you. You can find a list of signature dining restaurants here. Most character meals are one table credit with the exception of Cinderella's Royal Table at Magic Kingdom® Park. If you don't have an extra table credit to spare, the agents at Small World Big Fun have ideas and options to meet the princesses at other venues and locations.
3) Tips are not included.
Be sure to tip your waiter! You can always pay your tips in cash, or for convenience, use your Magic Band to charge them to your room. Many guests do not realize that tips aren't included so knowing this in advance may help prevent a shock at the end of the meal. Each check also gives you various tipping percentage options, which makes it even easier to calculate.
4) Mobile ordering is now linked to the Dining Plan!  
Mobile ordering is fairly new to Walt Disney World and can be done through your My Disney Experience App for several quick-service restaurants around Walt Disney World Resort. You can make payments using the credit card linked to your My Disney Experience account or your dining plan entitlements. You can find out more about how mobile ordering works here.
5) Be sure to use all of your food credits!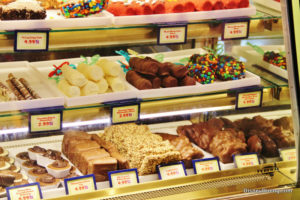 You can keep track of how many credits you have used with your My Disney Experience App or by checking your meal receipts, which show how many credits you have remaining. Sometimes you are having so much fun that snack credits can go unused leaving you with left-over credits on your last day. Keep in mind that snack credits can be used at various places throughout Disney World and include most desserts as well as many items at the bakeries, quick service restaurants, and packaged snacks at the resort gift shops.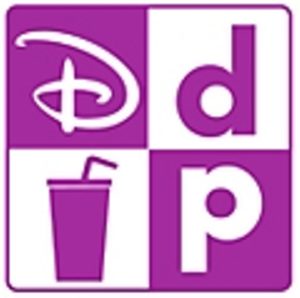 It's easy to get a light breakfast with a snack credit! Just look for this logo and ask a cast member for help if you have a question.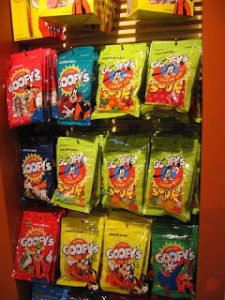 You can also trade in snack credits for packaged treats to take home with you. And, keep in mind that one quick service credit can be traded for three snacks.
6) Use your table service credits wisely.  
This is where an agent at Small World Big Fun comes in especially handy. The dining reservation window opens 180 days before your travel check-in date. Your Small World Big Fun agent will discuss the various dining options and take note of your dining preferences. We will try our best to reserve your choices at the times you request. It can be very difficult to nearly impossible to just walk up and ask for a table at table service restaurants, especially during holiday and peak seasons of the year. Having a reservation and a plan keeps your vacation on track.
We're Here to Make It Easy For You – And You Don't Pay Us!
Walt Disney World Resort is a wonderful place! And, part of the magic includes special dining experiences from character meals to unique menus. At Small World Big Fun, we generally encourage the use of a Dining Plan because it can save roughly 15% over paying out of pocket and includes more than 100 restaurant choices. Is a dining plan mandatory? Of course not! You can always book your own reservations and pay as you go. However, for some, using a Dining Plan can give peace of mind knowing that meals are included and planned to fit in with other activities.
We hope these tips will help you use your Dining Plan effectively and efficiently. Better yet, let us do the planning for you!