If you have ever wanted to experience Mardi Gras in New Orleans and need a family friendly version, you need to get yourselves to Universal Studios Orlando.
Every spring, Universal Studios Florida is transformed into a giant street party – complete with amazing food, drinks, concerts, and parades! This year's festival takes place on most nights from February 5th through April 24th. I was fortunate enough to sneak down to Orlando for the first weekend to check it out for myself.
Let's start with the food.
I could not believe how many booths they had and all the options that were available to guests!! All of the booths open between 11am and 11:30am. I opted to wait to eat anything until the beignet booth opened at 11 – so I would be able to eat a bag of them myself. Three orders later (over the course of 2 days), I can confirm they were simply delightful.
Other than the beignets…haha…there are nine total booths featuring New Orleans favorites and festival food from around the world. I sampled several dishes, but my favorite was the Hot Honey Chicken and Mac and Cheese dish. Honorable mention goes to the Chicken and Andouille Sausage Jambalaya. I am not a drinker; but, if you are, be sure to check out the Bloody Mary booth, too! I will say, the food lines went a tad slower than other festival food lines in Orlando. This is because all the dishes were being made as they were ordered. The food was fresh and it was hot. A lot of the dishes could even be customized, which was really different from what I am accustomed.
If you plan to eat and drink a lot, purchasing a Food & Beverage card is a good use of your money. You can get $75 worth of food and drinks for $65 or $150 in food or drinks for $120. These gift cards are available for purchase at the Mardi Gras food booths and can be used at all the locations.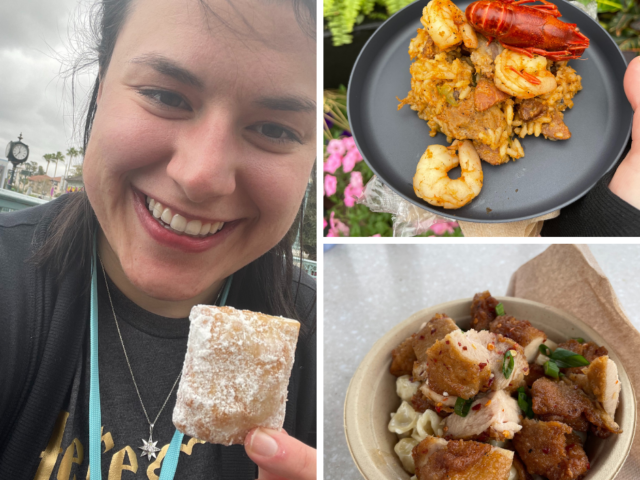 Next, let's move to daytime entertainment.
About the same time the food booths open, guests will start to see the dancers, stilt walkers, musicians, and other Mardi Gras street performers. While I was waiting for the parade to start (more on that later), I walked around and chatted with some of the performers and snapped a few selfies. It was obvious to see that they LOVE their jobs and were SO excited to be celebrating Mardi Gras again (it was a modified experience in 2021.) Families were dancing in the streets. Performers were handing out beads. It was loud and festive and a ton of fun!!
When the sun went down, things got absolutely WILD.
The Mardi Gras Parade was nothing like anything I have ever experienced. I'm not exaggerating even for a single second. The parade started with 4 police motorcycles clearing the streets (they were roped off already, but you get the idea), and then the madness started. The lights, the music, the floats, the performers, the beads!! ALL THE BEADS. Seriously, the event planner in me wanted to find out how many strands of beads they go through in a Mardi Gras season. People were walking around with 20-30 strands of beads around their necks. I quickly realized that there is a zero percent chance I could handle a true Mardi Gras parade. This was the perfect level of fun for me! It was also very family friendly. I don't know that I would have been able to enjoy it as much had I had my two year old in tow. Older children most definitely would do just fine.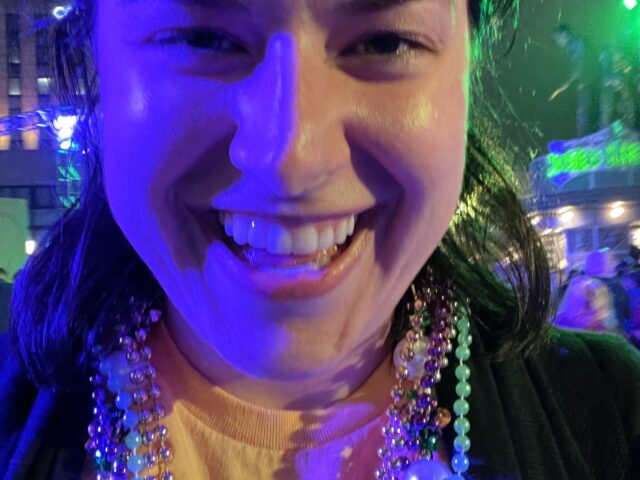 Live Concerts
If you can believe it, the festivities continue if you are visiting over the weekend (usually a Saturday night). Guests are also treated to a live concert on the Music Plaza Stage. These are really well known artists, too. Names like Jon Pardi, LL Cool J, Marshmello, Lee Brice, Becky G, Khalid, Seal, Gavin DeGraw, The Revivalists, Jimmie Allen, and Jason Derulo are all still scheduled to perform for the remainder of the 2022 season.
No Extra Cost
Now, allow me to shock you with the most impressive part of this entire experience. If you have a regular theme park ticket, you have access to every aspect of this event. You do have to pay for any food or drinks that you'd like to try. However, the concerts, performers, and parades come at no additional charge!
This is a must do every year!
I could not speak any more highly of my first Mardi Gras experience at Universal Studios. This is something that will be on my to do list annually. Every single aspect was so well done. I was extremely impressed. If you would like to experience Mardi Gras for yourself, I would be honored to help get you booked. Let the good times roll!