I have a confession to make. I am an OVER-packer! There, I said it. I admitted it. But in my defense, I simply have a need to be prepared for every possibility. And, to help me stay organized, I make a chart.  Really, I make a chart on my computer and print it out to help with packing and with letting everyone know what they are wearing on each day. My family simply adores my chart! They follow it to the letter – especially my teenagers! Okay, so it never works out the way I planned for anyone but me, but I do it as an act of love. It isn't my fault if they don't see it that way.
Packing less works for me…sometimes. When we go on a normal, one-outfit-per-day trip, I can manage. It really only becomes a problem when we go on Disney Cruises when I need multiple outfits for multiple activities each day. You can't wear the same thing to swim, to do Disney Trivia, to work out and to eat! Throw in a trip like our summer vacation last month to Alaska where the weather ranged from shivering cold at the glaciers to rainy and cool in Ketchikan to sunny and hot in Vancouver and my packing spirals out of control.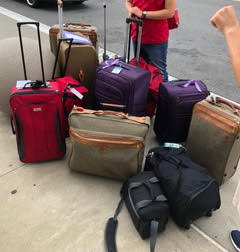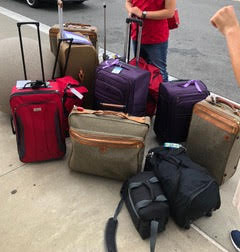 So, how do I suggest you pack effectively?
First, pack clothes that are versatile. Black pants are a great idea for us ladies! Taking one pair of black pants for dinners along with two or three different tops stretches out your wardrobe choices with less room needed in the suitcase. The same principle works for shorts. One pair of khaki shorts works great with multiple tops. Have a dress you can wear as cruise-casual but can then take a fabulous pair of earrings and necklace and voila, you are set for semi-formal night? Bring it! Guys are even easier. My husband can make one of pair khakis and one button down work for multiple nights.
Second, if you are cruising for longer than three or four nights, plan on doing a load or two of laundry mid-trip. The person you meet on day two of your cruise will not remember you were wearing the same shorts and tee on day six. Trust me!
Each Disney ship is equipped with multiple 24-hour laundry rooms scattered around the ship. The Wonder and Magic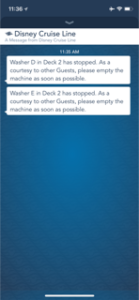 each have three laundry rooms and Dream and Fantasy each has seven laundries. I suggest doing laundry late at night or early in the morning when the facilities are less busy. You use your Key the World to purchase detergent, softener and wash/dry cycles. Be sure you've downloaded the Disney Cruise app so you can receive a handy text message letting you know your wash or dry cycle has ended. It is always best to quickly move your clothes or you risk being the recipient of ugly stares from guests waiting to use a machine.
Final confession: This is really a "Do as I Say, Not as I Do" article. If you see me in an airport with more than my fair share of luggage, be kind and just smile. Now go have some BIG fun in our Small World!
Be sure to also check out our handy packing list here.