We've planned more than 10,000 trips to Disney locations over the years, so we know what it takes to make sure your kids have Big Fun while at
Walt Disney World® Resort
. Here are just a few of the amazing and magical things you can do with your little ones at Disney World, but always feel free to ask us and
follow our blog
to see our trip reports and latest tips and tricks!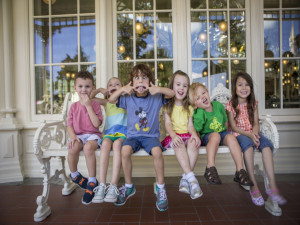 Pin Trading
You will see hundreds if not thousands of pins on folks around the parks; you can get all the scoop on how pin trading works and the best ways to go about it
through Disney's site
.
Character Meet & Greet — fun ways to collect signatures
All of the characters in Disney World will sign autographs and take pictures with your kids — this is probably THE best way for your kids to get up-close interaction with their favorite characters. There are many ways to go about getting autographs and turning them into keepsakes to commemorate your Small World Big Fun vacations. Here are a couple of ideas:
Have the characters sign a poster, frame it when you're back home.
Have the characters sign on one page of an autograph book, paste the picture of the signing next to it once you're home.
The big-time scrapbooker can make beautiful keepsakes featuring autographs and pictures from the park.
Talk to Characters?
Did you know your little ones can have a lot more fun with the characters in the park than only taking a picture and getting an autograph? Of course, that may be all you want to do so that you can get in all of your other Big Fun, but if you're up for more, here are a few suggestions:
Anna and Elsa
Ask them if they would like to build a snowman.
Offer to share a sandwich with Anna.
Ask Anna if Kristoff has proposed yet.
Tell Elsa it's nice to see her out of her room.
Ask Elsa if Marshmallow ever returned her tiara.
Mickey Mouse
Tell Mickey that you are going to propose to Minnie since he has waited so long.
Talk to Mickey about your favorite flavor of cheesecake.
Sing the "Hot Dog Song" from Mickey Mouse Clubhouse.
Ask him to wiggle his nose.
Woody
Ask Woody if Andy's name is on the bottom of his boot.
Tell Woody there is a snake in his boot.
Ask Woody for a showdown.
By the way, the Toy Story characters will not fall on the ground if you say "Andy's coming!" That's a bit of a myth, plus they'd spend all day on the ground if they did that!