We woke up as we were pulling into port at St. Thomas, USVI. This was the first cruise we've taken that had a veranda off the room, so we really enjoyed sitting outside, especially when we were pulling into and out of port. We grabbed a quick breakfast at Cabanas, then headed to the Walt Disney Theater, the meeting place for our Day 5 port adventure to Trunk Bay, St. John, USVI. We chose Trunk Bay because it's known for its pristine beaches and snorkel trail, which is actually part of our National Park Service. The Island Girl ferry took us from St. Thomas to St. John.  During the 35-minute trip, the tour operator shared many interesting facts about St. Thomas and St. John. Once we arrived at St. John, we took an open air taxi to Trunk Bay. The beach was absolutely gorgeous: the sand was like silk, the water was crystal clear, the beach crowds were low, and the weather was perfect. We had so much fun playing in the ocean that we never made it to the snorkel trail! We all agreed that Trunk Bay was the most beautiful beach we had ever visited.
The ferry ride back to St. Thomas was as entertaining as the ride to St. John was. We spent some time shopping in St. Thoma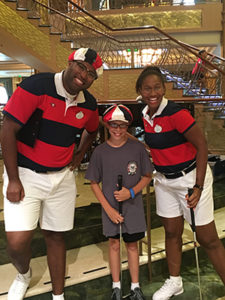 s before boarding the ship, just in time for a late lunch. After lunch, we showered and took advantage of some activities on the ship. TIP:  The crowds for ship activities are much lower when the ship is at a port.  One of our favorite activities of the trip was the Chip-It Golf Competition. Although Grayson (9) was too young to participate, he was named the official caddy of the competition. He had so much fun! He was given a special Disney Cruise Line hat as a "thank you" for his help, and the activities crew knew him by name the rest of the trip, which made him feel EXTRA special!
The entertainment of the night was comedian/magician, John Cassidy. We laughed a lot, so he definitely did his job! Our dinner was at Animator's Palate, but it was completely different experience than the first time we went. Instead of Crush swimming throughout the restaurant, we were given pen and paper to draw a stick person when we arrived. Imagine our surprise when, later in the meal, our drawings came to "life" as animated characters on the TV screens positioned throughout the restaurant. It was so much fun to watch! After dinner, the kids raced back to the room to change into their swimsuits so they could do a couple of night rides on the AquaDuck. There was no wait, so they were able to ride several times before it closed. Another perfect ending to a great day!
Ava's Advice: 
The lines to see characters are very low when the ship is in port.
The AquaDuck usually has very short lines the hour before it closes (9:00 – 10:00 pm)