Our day started with a beautiful view of Tortola as we were pulling into port. After a quick breakfast at Cabanas, we were off to the Walt Disney Theater, the meeting place for our port adventure to Virgin Gorda to visit The Baths. The Baths are made up of a gorgeous white sand beach area, numerous crystal-clear pools and hidden grottoes formed by large boulders (or batholiths) on the island of Virgin Gorda. Naturally, this area is a very popular destination for tourists. TIP: If you book your port adventures through Disney Cruise Line, you'll get tickets that show the meeting time and location for each port adventure. Once everyone in our group arrived, we debarked the ship and walked to the ferry that would take us on the 45-minute trip from Tortola to Virgin Gorda. We chose to sit inside in the air conditioning, but riders can also sit outside on the upper and lower decks. Since we were in open water, the ferry ride was rough at times, but the kids said it felt like we were on a roller coaster. TIP: I would recommend preventive motion sickness medicine/patch for anyone that experiences motion sickness. 
Once we arrived at Virgin Gorda, rows of open air taxis stood ready to take us to our adventure at The Baths. Our taxi driver gave us a history of the area and even stopped at a scenic overlook so we could all take pictures. We arrived at Top of the Baths, a restaurant and gift shop, and took a short hike (about 2/10 mile) down to the first beach to enjoy some free time exploring the enormous rock formations. After about 45 minutes on that beach we took an optional tour through a rock cave to get to Devil's Bay, another nearby beach area. The cave experience was quite a trek – we had to duck through small spaces and climb over large rocks to get through to Devil's Bay. TIP: I highly recommend water shoes for this portion of the excursion. After spending some time at Devil's Bay, it was time to meet the open air taxi for our return trip to the ferry. TIP: The hike back to the taxi is more than a ½ mile, and it was hot! I would only recommend the optional cave portion of this excursion to people in good physical condition. While we were waiting for the taxi, we spent some time visiting the shops, restaurant, and pool at Top of the Baths. We took the ferry back to Tortola and spent some time shopping before boarding the ship.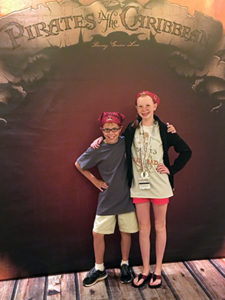 By the time we were back on board, we were all VERY hungry, so we headed straight to Cabanas for a late lunch. The pool and AquaDuck weren't too crowded, so we spent some time there, got ice cream (YUM!), and headed back to our rooms for showers.   The evening of our fourth day was "Pirate Night," so most people (and Disney characters) were dressed in pirate costumes. Instead of a stage show, the entertainment of the night was a movie in the Walt Disney Theater: Finding Dory in 3D! When the movie ended, we had a great dinner at The Royal Court, and our servers were even dressed up for pirate night. The evening ended with a Pirate Dance and Dessert Party on Deck 11 (the pools were covered to make a "dance floor"), as well as a fireworks show at sea. It was the perfect ending to a great day!
Ava's Advice: 
Don't forget to bring pirate clothes! It is SO fun to dress up and get pictures taken with the Disney characters in their pirate costumes!
There is a movie theater on the ship that shows all of the latest movies – there is SO much going on that it's just hard to find time to do everything, so I didn't see as many movies as I thought I would.