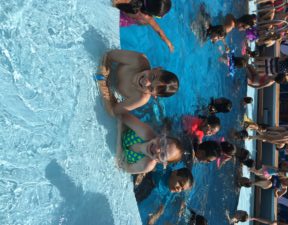 Day 3 started a lot like Day 2: Gym, Breakfast, Swimming Pool, Aquaduck, then showers. The BIG event of our day was the Disney Princess/ Frozen character greetings! Both are ticketed events that must be signed up for in advance. TIP: Online booking for the character greetings is now available through the My Disney Cruise section of the Disney Cruise Line website. We did this before we left and the tickets were in our stateroom when we arrived on Day 1. The Princess character greeting was located in the Atrium. The princesses that were present were Cinderella, Belle, Ariel and Tiana. We also had a ticket to see the Anna and Elsa. Their character greeting was in Animator's Palate. They had a GREAT backdrop and all of the TV screens in the restaurant were showing scenes from Frozen.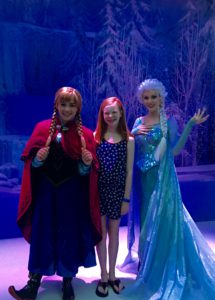 The variety act of the day was Charles Peachock, who was a finalist on America's Got Talent. He could do so many AMAZING juggling tricks! Our favorite part of his show was when he played Disney songs on a floor piano by juggling balls! After the show, we delivered our Fish Extender gifts to the other families in our Fish Extender group. We made personalized tote bags for each stateroom. We saw several people carrying them around during the cruise, so we knew they were a success!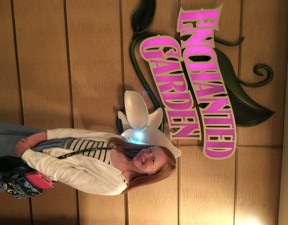 The big show of the night at the Walt Disney Theater was "Wishes". It was a fun show about growing up, but staying young at heart. It included songs from Pinocchio, Tangled, Hercules, Mulan and Lion King. The actors and actresses were so talented! Our dinner was at Enchanted Garden, which was a restaurant inspired by the gardens at Versailles. During dinner, the restaurant's ceiling changed from a beautiful blue daytime color, to a deep red sunset, then to a twinkling nighttime sky.   Our food was delicious, as always!! We all went to bed fairly early to get ready for our first stop, Tortola, BVI.
*Ava's Advice: Make sure you bring something to get autographs of the characters and princesses! I saw people getting autographs on shirts, picture frames/ mats, pillow cases, bags, and of course, autograph books!