Day 2 started with a workout at the Fitness Center. TIP: The Fitness Center is only for guests 18 and older. There is a walking/ running track on Deck 4 that can be used by guests of all ages. Breakfast at Cabanas was next, then off to the pool! The pools were already fairly crowded, but that didn't stop us from riding the Aquaduck! TIP: The lines for the Aquaduck can get very long during the day – we found the shortest lines right when it opened in the morning or later in the evening. After spending some time at the pool, we grabbed some ice cream (YUM), and headed to our staterooms for showers.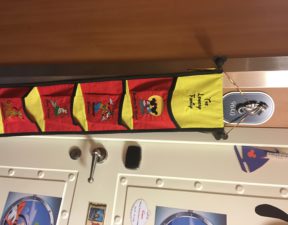 The kids were SO excited to find our first gifts in our Fish Extender when we got back to the room. What is a Fish Extender??   Every stateroom has a fish (or seahorse) hanging on the wall outside the door.  This is part decoration and part message center. The fish is there for Disney to place important communications to you such as excursion tickets and notes from the Cruise staff. It is like a mailbox for your room. It is very popular to participate in a Fish Extender exchange. This entails having a fish extender hanging off the fish outside your room. A fish extender can be made of cloth, plastic or vinyl. It can be very creative or very simple. If you don't care to create your own Fish Extender, you can find many listings on eBay or Etsy where one can be customized for you. All of the people in the exchange buy little items and place them in each other's fish extenders. It is great fun to come back and check the items you have received. We signed up for our Fish Extender Group through a Facebook Group of people going on our specific cruise. Another place to look for Fish Extender Groups is the DISBoard. TIP: Sign up early for a Fish Extender Group – they only allow a limited number of families in each group.
We decided to try lunch at The Royal Court since we had eaten lunch at Cabanas the day before. Every day one of the main three restaurants is open for lunch. TIP: You can find the schedule on the Navigator that is left in each stateroom at night or on the app. Each day at sea, Disney has a matinee show with a different variety act. Today's show was a comedian/ magician named "Magic Dave". He was hilarious!!! Next, the kids spent some time in their clubs, then it was time to get ready for the evening show, Aladdin. This show was our favorite! TIP: Arrive early to get good seats for the shows – the theater opens 30 minutes before each show.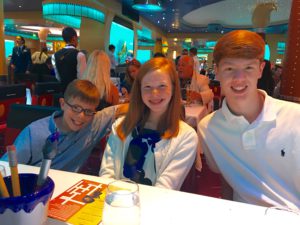 It was formal night, so we wore our dressier clothes to dinner. TIP: Some people were in formal wear, but most were just more dressed up than normal. Dinner was at Animator's Palate, which was the kids' favorite restaurant. Crush, from Finding Nemo, showed up on the screen next to our table, and we got to "turtle talk" with him! It was Game 7 of the NBA Finals, so we decided to go up to the pool deck after dinner to watch the end of the game. It was playing on the HUGE Funnel Vision Screen and there were A LOT of people watching it. The kids were able to ride the Aquaduck 3 times in a row (no line), which was a great ending to our day!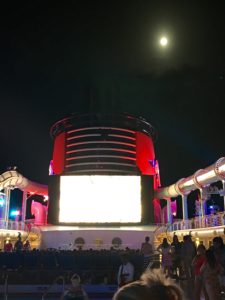 Ava's Advice:
*The Navigator App is the BEST! I used it to see the dinner menus, activities for the day, character greetings, maps, and to text my family and friends. My favorite thing about the app is the special Disney emojis that can be used for texting onboard!