This was the day we'd all been looking forward to: Castaway Cay! We signed up (for FREE) earlier in the week to run the Castaway Cay 5K, so we were off the ship bright and early. We were given race bibs then taken to the official start location of the race. The race was an out-and-back course with a loop and one water stop that you run by four times. The island was absolutely gorgeous to see and we were super-excited to be awarded special Castaway 5K medals as we crossed the finish line. After that run, we felt like we earned our completely lazy day on the island!
Castaway Cay offers SO much to do. Everything needed for the perfect beach getaway is there — from lounge chairs and beach umbrellas to tasty food, kids and teen activities, character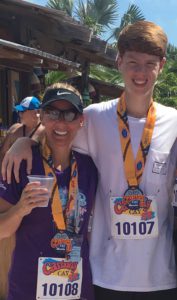 greetings, and a welcoming family-friendly entertainment. We really enjoyed hanging out on the beach all day, searching for shells, snorkeling, and dining at Cookies BBQ. Our favorite activity of the day was the Crab Race. We were assigned a crab, Sebastian, that competed in a series of races. It was so much fun to cheer on Sebastian to his 3rd place finish! We stayed at Castaway Cay as long as we could before re-boarding the ship. It was truly a perfect day!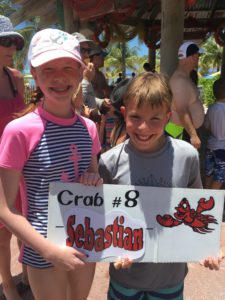 The last live show of our cruise was Disney's "An Unforgettable Journey." This farewell show celebrated the extraordinary journey we experienced onboard the Disney Fantasy and highlighted the memorable moments and Disney touches through the words and wisdom of the man himself, Walt Disney. We ended our cruise in the same restaurant that we started in, The Royal Court. We were extremely sad to say goodbye to our servers, Sheldon and Horie. We received AMAZING service and had really gotten attached to them throughout the week.
Sadly, though, after dinner, it was time to get packed. We had two options for handling our luggage during disembarkation. The first was to carry all of our luggage off the ship ourselves, which DCL calls "Express Walk Off". When doing this, we would not need to use the character luggage tags that were left in our room. This is the option we chose since we were heading to Walt Disney World after we got off of the ship. The second luggage handling choice was to let Disney handle it all for us and we would have claimed our luggage in the terminal the next morning. If we chose this option, we would have had to put our luggage in the hallway, right outside our room door, no later than 10:00 p.m. We decided this option wasn't for us because we wanted to get to Walt Disney World as early as possible. TIP: If choosing the second option, don't forget put the character luggage tags on all of your luggage and be sure to leave a change of clothes out to wear the next day so you don't have to wear your pajamas off the ship!
Ava's Advice
If you missed seeing any characters that you hoped to see, go to the See Ya Real Soon Character Greeting! TONS of characters come out for one last chance for pictures!