A long run around the track on Deck 4 and a few games of shuffleboard with Grayson were the perfect ways to start our day at sea! We grabbed a quick breakfast at Cabanas and were first in line to ride the AquaDuck before it got too crowded. Lots of fun activities were going on, so we had a full day ahead of us. The boys decided to see "Captain America" at the movie theater, and Ava and I went to check out "Jack Jack's Incredible Diaper Dash," which is a baby crawling race. It was so cute to watch the parents trying to coax their babies to be first to finish the race. We did a little shopping and then had a nice lunch at the Royal Court.
Disney Cruise Line has matinee shows on the days at sea, and the entertainment of the day was comedian and ventriloquist Lynn Trefzger. Her show was hilarious, and her ventriloquism skills were amazing. We truly enjoyed ALL of the onboard entertainment throughout our cruise! Grayson and Ava were so fascinated with John Cassidy's magic show the previous night, they decided to attend his magic workshop in the afternoon. They loved getting the one-on-one attention and even got to take home "trick" magic wands. The live show of the night was "Disney's Believe," which is about a dad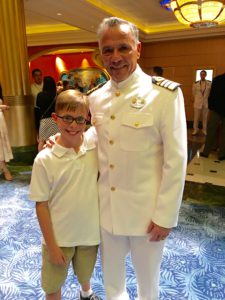 who reconnects with his daughter after the genie teaches him how to see the magic and learn to believe again in Disney fairy tales. We LOVED Genie from Aladdin, and were very pleased that he was back in this show!
Tonight was also Officer Pin Trading night, which is where all of the ship's officers, including the captain, come out to trade Disney Cruise Line special pins. The kids got some unique pins and enjoyed meeting all of the officers. We headed back to the Enchanted Garden for dinner, which was just as amazing as it was earlier in the week! Although we were getting sad that our cruise was coming to an end, we were super excited about our day at Disney's private island, Castaway Cay coming up the following day.
Ava's Advice:
Pin trading is BIG FUN! You can save money by purchasing pins in advance to trade onboard the ship with the Cast Members, Disney Cruise Line Officers and in the onboard shops.