Mary Davidson's family went to Disney a couple of times when she was growing up, but her true love of Disney really kicked in when she began taking her two boys there.
"Seeing the magic through their eyes, being able to make those special memories with them, that is what started it all!" she says.
Mary had planned her own Disney trips for years and had begun to do some planning for family and friends. Then she decided that she wanted to make this something that she did for others full time. She did a lot of online research because she says that finding the right company for her was very important.
"I stumbled onto Small World Big Fun. When I spoke with Cindy [Minor, owner of Small World Big Fun] for the first time, I knew I had found exactly the agency I was looking for!"
She truly loves her job and says it has so many positive aspects, but her favorite part of the work is doing everything possible to go the extra mile for her guests to help them have the most magical trip possible. To take the stress and burden of planning off their shoulders so they can just go and enjoy time with their families is very rewarding to her.
Mary likes working with all types of clients, and she works just as hard for people who have extravagant vacation budgets as she does for those clients who are very budget conscience.
"I enjoy clients who I can build a relationship with. I like getting to know their exact vision of an enjoyable trip and then put those pieces together for them," she says.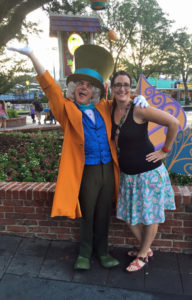 Why Disney?
Mary says she appreciates the thoughts and principles that led Walt Disney to create Disneyland, later growing it into the empire that it is today.
"He had a very specific vision for what he wanted to create. He wanted to build a place where parents could enjoy being with and playing along with their children," she says. "Not only that, but Walt believed in forming a very special relationship with his Cast Members, even going so far as to call everyone by their first name, creating a more personal relationship with them." That is why when you see the Cast Members' name badges in the parks, even today, you will see only a first name.
Mary's Top Three Tips for Disney Travelers
Plan early to avoid stress later.
Have an idea of what you want, but also be flexible. Slow down and soak it all up.
Don't sweat the small stuff. Sometimes you can't get everything you might have initially hoped for, but you will still have an amazing time.
Mary's Top Three Disney Attractions
Space Mountain
Soarin'
Flights of Passage
Apparently, she has a thing for flying!
Mary's Favorite Part of Being a Disney Travel Agent
"My favorite part of my job is when parents surprise their children with a trip to Disney. Many of my clients send me videos of their grand reveals. The happiness and the tears of the children and the parents – that true happiness realizing that a dream is about to come true – that is one of many things that make what I do so rewarding."
Why Should Clients Work with an Authorized Disney Travel Agent?
Because they're typically booked far in advance, many things can change when planning a Disney vacation: Parade time changes, attraction closures for refurbishments, resorts undergoing construction, etc.
"People who are trying to plan on their own simply cannot keep up with all the changes happening at Disney," Mary says. "That's why having an agent who's in-the-know and stays on top of these things is so helpful when planning your trip."
Agents also monitor money-saving discounts as they become available and apply them to vacations when possible to save clients money. Most importantly, Small World Big Fun services are always free when staying at a Disney resort, so you really have no reason not to use their services.
Working with Mary
Mary would love to help you take care of all of your vacation details so that when you arrive, all you have left to do is enjoy the magic with your family!
You can contact Mary at mdavidson@smallworldbigfun.com or by phone or text at 615-476-0839.